The Ultimate Stocking Stuffer
Summary
Realty Income, better known as "The Monthly Dividend Company" has maintained a steady dividend track record supported by inherently stable business model, with disciplined execution.
Low cost of capital allows Realty Income to acquire the highest quality assets and leases in the net lease industry.
Realty Income is one of the few REITs that can fend off competition and earn high returns on capital for many years into the future.
As you can imagine, I get frequent questions regarding REITs to invest in, and one of the most common questions is, "what REIT should I buy?"
I'm not quite sure why folks insist that I trumpet one REIT, because we all know the importance of diversification. However, to satisfy the insatiable appetite for picking just one of the very best dividend paying stocks, I commonly explain,
"Too much concentration can be dangerous, but too much diversification can dilute profits."
Stock picking can be rewarding, and many of the so-called do-it-yourself (or DIY) investors spend countless hours surfing the internet hoping to find the perfect gem for their portfolio. I am glad that you consider me a trusted source for due diligence, and hopefully that's why you're reading this article.
A few weeks ago I purposely developed a small basket of the most popular REITs called the DAVOS.
Why the DAVOS?
I'm sure that you are familiar with the acronym FANG created by CNBC's Jim Cramer a few years ago. It's representative of four of the most popular and best-performing tech stocks in recent memory – Facebook (NASDAQ:FB), Amazon (NASDAQ:AMZN), Netflix (NASDAQ:NFLX), and Google (NASDAQ:GOOG) (NASDAQ:GOOGL).
I decided to create my very own FANG for REITs that serves as a benchmark for my five favorite REITs in one easy-to-use phrase. After carefully vetting the best REITs to own I wound up with this catchy 5-letter acronym that anyone can recite.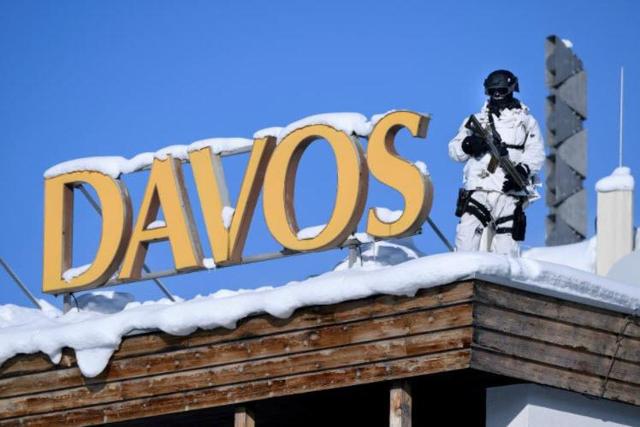 Photo Credit Getty Images
Let me be clear, I would not recommend buying all of the 5 DAVOS picks today, there are two REITs – American Tower (AMT) and Digital Realty (DLR) – that are expensive (based on our valuation metrics). Conversely, Simon Property(SPG) is on our BUY list, but this REIT is 100% retail and we believe it should be held in a larger portfolio along with diversified property sectors such as Industrial, Infrastructure, etc..
Ventas, Inc. (VTR) is also on our BUY list, but we would not recommend 20% exposure in one healthcare REIT. We like healthcare, but our strategy has been to maintain a tactical allocation of sub-sectors in which the pure play REITs deliver optimal performance.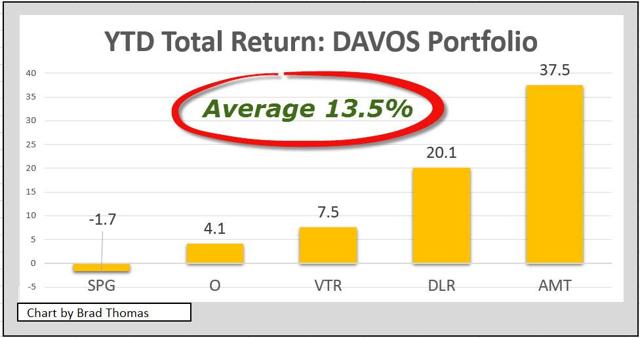 As you can see (above), the DAVOS stocks have returned an average of 13.5% year-to-date.  That's not bad, especially when you consider the performance of the various REIT ETFs (we will be providing a detailed REIT ETF Guide in the upcoming issue of the Forbes Real Estate Investor).
But wait, did I leave out a REIT from the DAVOS?
Nope. This leads me to my "ultimate stocking stuffer" and the most common question I get from investors, "what REIT should I buy?"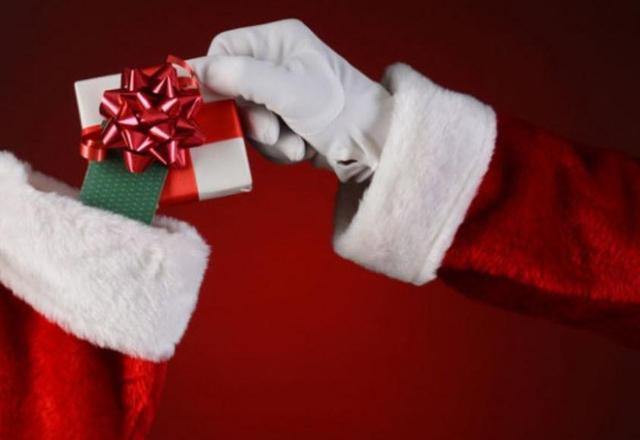 The Basic Net Lease REIT Overview
Before I start on the discussion of Realty Income (O), remember that I created the 'DAVOS' by hand-picking five of the best-in-class REITs that are known for their powerful forms of differentiation. These five REITs invest in different property sectors and the common ingredient is that they all have strong dividend growth records.
The reason that included a Net Lease REIT is because the revenue model is different from Shopping Center REITs because their (Net) lease structure and growth drivers support a predictable revenue stream relative to other forms of retail real estate. This snapshot below compares Realty Income (and Net Lease REITs) with Shopping Center/Mall REITs:

It's also important to recognize the powerful scale offered within the Net Lease sector. There are only handful of Mall and Shopping Center REITs that can make acquisitions due to demographic hurdles. However, Realty Income can make investments in all 50 states and within almost every county in each State. So, they sky is the limit when it comes to growth opportunities.

One of the most important differentiators for Net Lease REITs is that they drive growth through acquisitions. When is the last time you saw a Mall REIT acquire a Mall?
Net Lease REITs like Realty Income have a large pool to fish in – the sector is highly fragmented and there are opportunities to invest in practically every state in the U.S. (Realty Income owns properties in 49 states).
Over the years, Realty Income has evolved into a massive Net Lease REIT with 5,062 properties ($22 billion enterprise value) located in 49 states and Puerto Rico. As you can see below, the company has a highly diversified portfolio spanning 49 states (not in HI):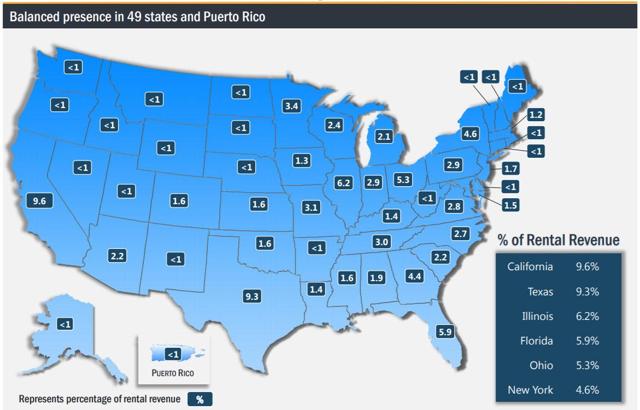 It's hard to fathom how much Realty Income has grown over the years, from one Taco Bell site to over 5,000 properties. The company now has incredible scale, well diversified by tenant, industry, geography, and to a certain extent, property type.
No tenant represents more than 6.6% of revenue as Realty Income has 250 commercial tenants, 45% are investment-grade rated (including 9 of the top 20 tenants):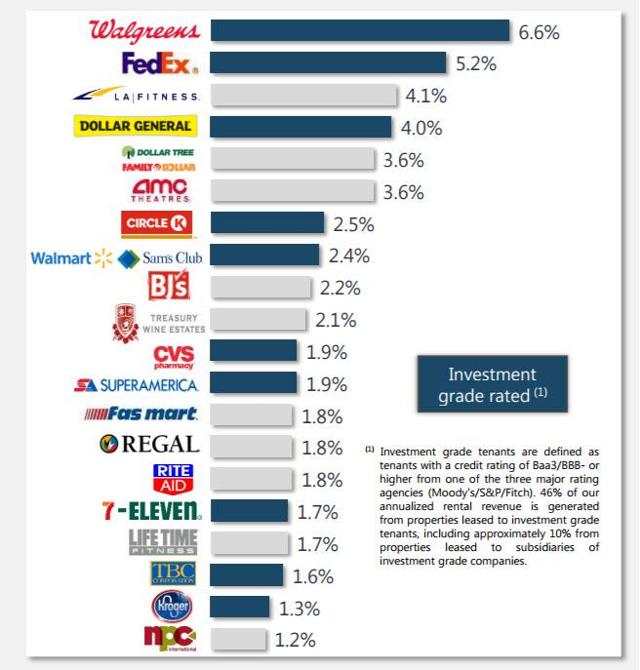 Despite the REIT's retail focus, the defensive nature of Realty Income's net-lease portfolio has minimal exposure to discretionary retail tenants, will continue to provide good earnings stability. During the first quarter, Realty Income added Kroger (NYSE:KR) to its top 20 tenants, representing 1.2% of annualized rental revenue. But more importantly, the top 15 tenants represent higher quality credit, less cyclical industries and greater diversification vs. 2009: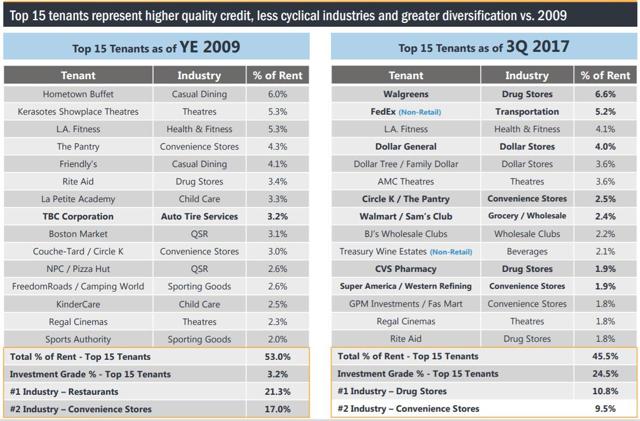 As you can see below, Realty Income's Top 20 tenants all fall in at least one category (Service, Non-Discretionary, Low Price Point Retail or Non-Retail). No industry represents more than 11.1% of rent and the company has considerable exposure to defensive industries.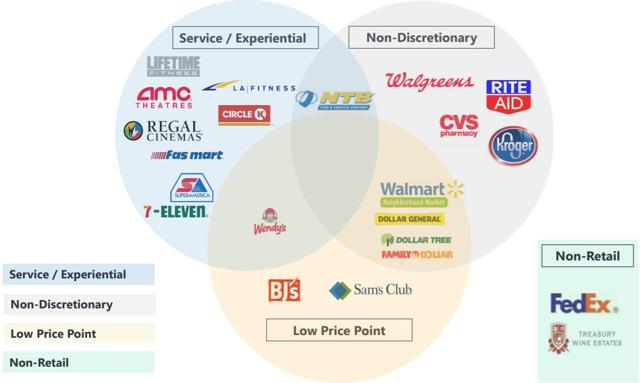 Realty Income's roots are in retail with growing exposure to mission-critical industrial properties. The Top 10 industries represent strong diversification, significant exposure to non-discretionary, low price point, service-oriented industries: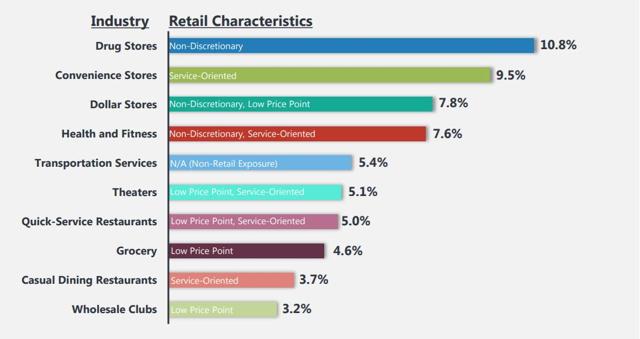 Realty Income's management team is highly experienced at sourcing deals and when the company invests in retail, it seeks strong unit-level cash flow coverage (specific to each industry). The company seeks tenants with service, non-discretionary and/or low price point components to their business with favorable sales and demographic trends.

Keep in mind, there were 14 out of 15 retailer bankruptcies in 2017 associated with companies lacking a nondiscretionary, low price point, and/or service-oriented component to their business. Realty Income has little exposure to these categories: 5 apparel BKs and O has only 1.2% of ABR in apparel, sporting goods, electronics, and general merchandise. Realty Income's portfolio is designed to perform in virtually any economic environment.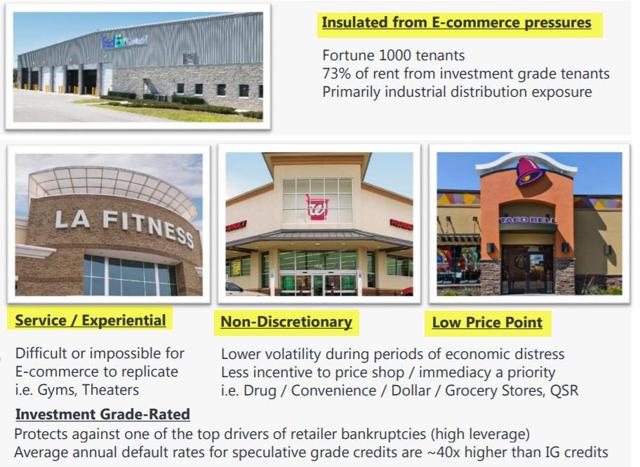 The Magic Starts Right Here
A few weeks ago I wrote that Moody's Investors Services "upgraded the senior unsecured rating of Realty Income Corporation to A3 from Baa1. The outlook is stable. The upgrade to A3 reflects the REIT's long track record in maintaining conservative balance sheet metrics, exceptionally strong ability to obtain long-term financing at low costs, and a geographically diverse net-lease retail portfolio with steady operating performance throughout real estate cycles."
The A3 rating recognizes the depth and experience of Realty Income's management team. The following ratings were upgraded: Realty Income Corporation – Senior unsecured debt to A3 from Baa1; senior unsecured debt shelf to (P)A3 from (P)Baa1; and preferred stock shelf to (P)Baa1 from (P)Baa2. These credit strengths are offset by some modest tenant and industry concentrations.
The A3 rating is also supported by the strength of Realty Income's balance sheet which is underpinned by its limited use of secured funding, and modest overall leverage as measured by effective leverage and net debt to EBITDA.
As of the end of Q3-17, the company's effective leverage was 36.3%, down from 41% at YE2016. Net Debt to EBITDA was 5.4x for the same period, down from 5.9x at YE2016.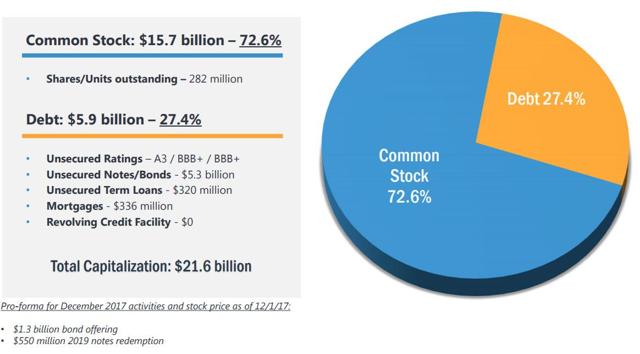 As Moody's expects Realty Income to operate in the low 5x net debt to EBITDA which is within the parameters for an A-rated issuer. The REIT's solid operating performance is reflected by its sustained high occupancy rates (98.3% as of 3Q17) and strong fixed charge coverage of 4.3x for 3Q17, up from 4.0x at YE16.

Moody's expectation is that management will maintain a strong operating profile with high occupancy rates and healthy earnings growth. Upward ratings movement is unlikely and would require the REIT to sustain effective leverage below 30%, net debt to EBITDA closer to 4x, and fixed charge coverage above 5.0x.
Downward rating pressure would result from any highly levered acquisition, a reversal to its tenant and industry diversification such that any tenant represents more than 10% of total rent, secured debt approaching 10% of gross assets, fixed charge coverage below 4.0x, and net debt to EBITDA approaching 6.0x.
There are only eight other REITs have at least one "A" rating by one of the major ratings agencies:
Public Storage (PSA), Equity Residential (EQR), Simon Property Group, Boston Properties (BXP), AvalonBay (AVB), Camden Property (CPT), Federal Realty (FRT), and Prologis, Inc. (PLD).
This group is even more select than the S&P 500 REITs (of which there are ~30). Realty Income is now one of only nine "A" rated companies, one of only ~30 S&P 500 REITs, and one of only 5 REITs in the S&P High Yield Dividend Aristocrats index for having raised its dividend each year for at least 20 consecutive years.
The Super Charged Stocking Stuffer
With the credit upgrade (referenced above) Realty Income's cost of 10-year debt should decline (perhaps 10 basis points on 10-year paper – i.e. going from 3.7% to 3.6%). The company's current nominal first-year cost of equity is ~5.4% and the current WACC (weighted average cost of capital) is in the ~4.4% range.
While not a significant improvement due to the upgrade, it is more symbolic and should have a positive longer-term impact on the company's cost of capital.
Realty Income's investment spreads relative to its weighted average cost of capital remained healthy and above the historical averages. Realty Income defined investment spreads as initial cash yield less the nominal first year weighted average cost of capital.
Low cost of capital allows Realty Income to acquire the highest quality assets and leases in the net lease industry.
In Q3-17, Realty Income was active on the capital markets front, issuing approximately $444 million in common equity at an average price of approximately $58 per share. The equity issuance activity during the quarter came through the company's ATM program – this is a cost-effective equity issuance program which allows the company to match fund acquisitions activity and to repay ($175 million) bonds that matured in September.
Realty Income currently has approximately $1.3 billion available on its $2 billion line of credit. This provides the company with ample liquidity and flexibility as it grows.
Other than the credit facility, the only variable rate debt exposure is just $23 million of mortgage debt. The overall debt maturity schedule remains in very good shape, with only $213 million of debt coming due in the remainder of this year.
Realty Income has ample liquidity and flexibility to grow, and of course, when the earnings grow, so do the dividends. The company acquired $265 million of new deals in the third quarter: 19% were one-off transactions, and the company also closed on a large AMC sale/leaseback.
Cap rates continued to remain flat in the third quarter, with investment-grade properties trading from an around 5% to high 6% cap rate range, and non-investment-grade properties trading from a high 5% to a low 8% cap rate range.
Realty Income's investment spreads relative to its weighted average cost of capital remained healthy, averaging 263 basis points in Q3-17, which was well above the historical average spreads. The company defines investment spreads as initial cash yield less nominal first-year weighted average cost of capital.
Year to date 2017, Realty Income invested $957 million in 177 properties located in 35 states at an average initial cash cap rate of 6.5% and with a weighted average lease term of 14.9 years. Some of the most significant industries represented are grocery stores, theaters, and automotive services. Of the 50 independent transactions closed year to date, three transactions were above $50 million.

The Power of the Stocking Stuffer
In Q3-17 Realty Income reported another predictable quarter with AFFO per share growth of approximately 7%. The company also reiterated its 2017 AFFO per share guidance of $3.03-3.07, which represents annual growth of 5.2-6.6%.
I recently wrote this Forbes article explaining the use of "AFFO".
Since Realty Income is now part of the "A-rated" Team, I thought this chart below would be useful – comparing AFFO/share growth estimates (for all A-rated REITs):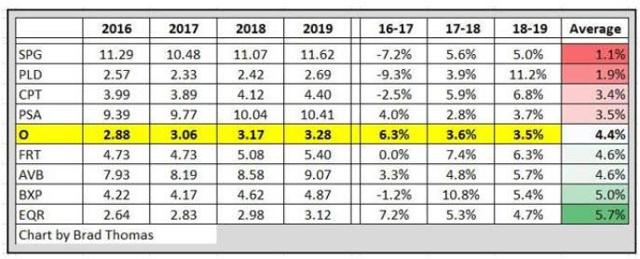 What differentiates Realty Income for most other REITs is the very consistent and predictable performance model – look at this chart below:

Now take a look at this chart:

80% of Realty Income returns from 1994 NYSE listing through Q3-7 were attributed to dividends.
Realty Income, better known as "The Monthly Dividend Company" has maintained a steady dividend track record supported by inherently stable business model, with disciplined execution.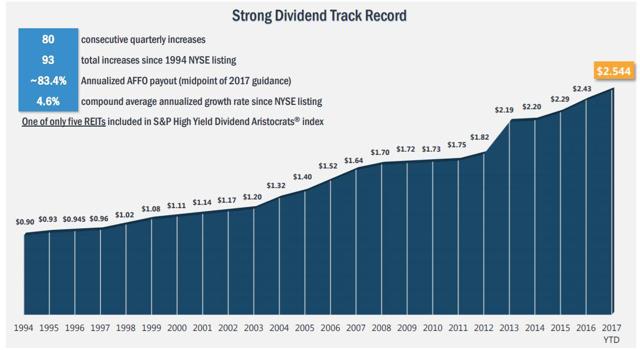 Since 1994 NYSE listing, Realty Income shares have outperformed benchmark indices while exhibiting lower volatility: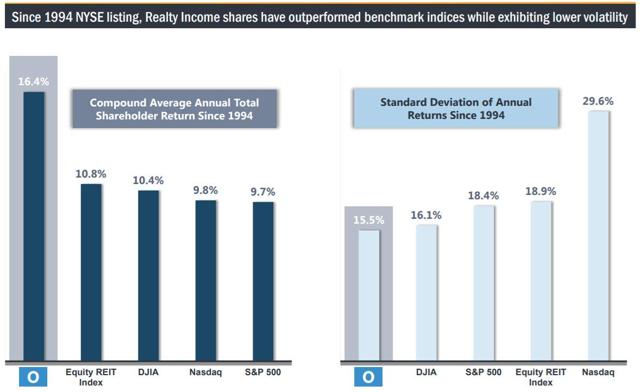 Now let's examine the dividend history: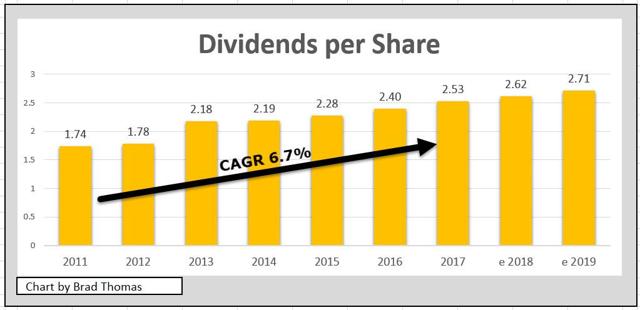 Now let's examine the AFFO/share history: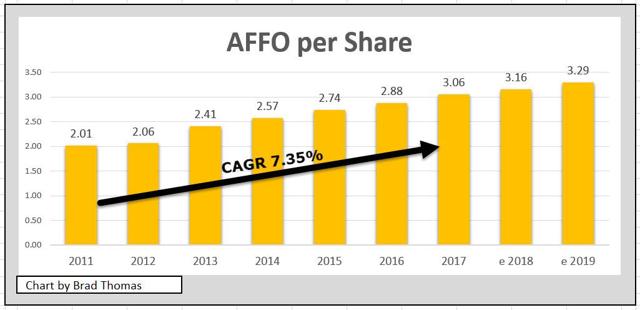 Now let's examine the AFFO Payout Ratio: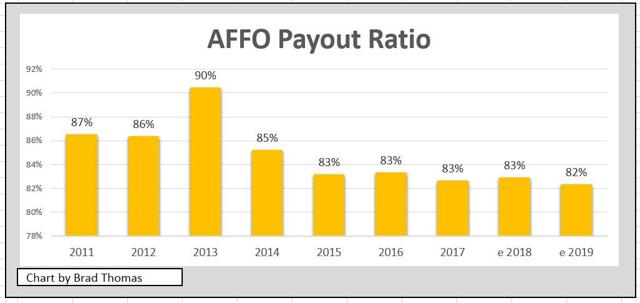 Now let's examine the dividend yield vs. the peers: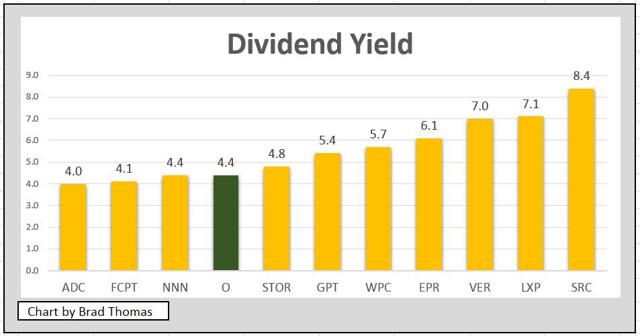 Now let's examine the AFFO/share forecast vs. the peers:

Why the Ultimate Stocking Stuffer?
It's very simple. Realty Income has a wide moat, defined by the scale advantage…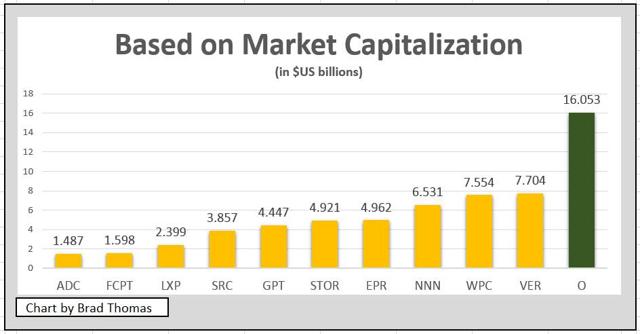 …as well as the low cost of capital advantage.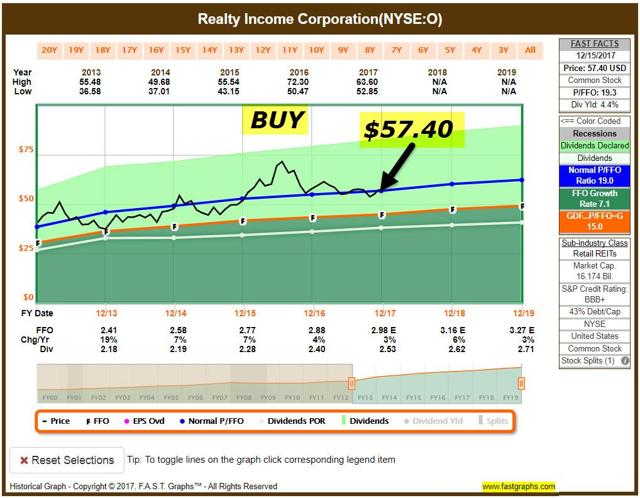 Quite simply, Realty Income is one of the few REITs that can fend off competition and earn high returns on capital for many years into the future – increasing earnings, returning cash to shareholders, and compounding intrinsic value. Companies that can withstand the relentless onslaught of competition for long stretches are considered wealth-compounding machines that we want to own for a long time.
Sustainability is much more important than the magnitude of economic profits when assessing economic moats, a highly certain stream of modest dividends is much more "moatworthy" than a few years of extraordinary high returns (beware of Washington Prime and Sprit Realty).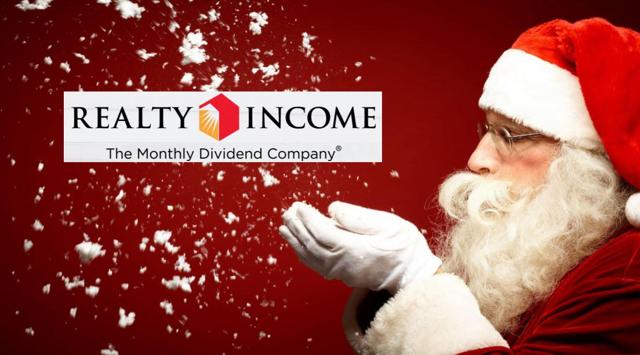 Disclosure: I am/we are long O.
I wrote this article myself, and it expresses my own opinions. I am not receiving compensation for it. I have no business relationship with any company whose stock is mentioned in this article.