This Net Lease REIT Is 'Finger Lickin' Good'
Summary
FCPT's acquisition strategy is to decrease its reliance on Darden over time by purchasing properties that are well located and occupied by durable restaurant concepts.
I'm not opposed to FCPT's extension into closely related brands, but I would not like to see the company moving away from its circle of competence.
I am not advocating M&A as a catalyst to support my BUY recommendation, as I am most attracted to the stability of FCPT's overall predictable platform.
Over two and a half years ago, I wrote an article titled, Staking Out Four Corners Property Trust, in which I provided my very first look at Darden Restaurants' (NYSE:DRI) real estate spin, Four Corners property Trust (FCPT).In connection with the spinoff, Darden was able to successfully monetize its legacy real estate portfolio in a tax-free vehicle (instead of taking the company private).
Essentially, Darden was able to alter its capital structure in a way that allowed it to take advantage of REIT laws and allow FCPT to lease back its real estate. The window for C-Corp REIT spins has now closed, but in addition to Darden/FCPT, a number of other deals made it through the IRS test, namely Sears (SHLD)/Seritage (SRG), Hilton (HLT)/Park (PK), Penn National Gaming (PENN)/Gaming and Leisure Properties (GLPI).
Note: MGM Resorts International, Inc. (NYSE:MGM) formed MGM Growth Properties (NYSE:MGP) with an IPO structure.
With the close of the FCPT transaction (over 2 ½ years ago), the restaurant-focused REIT owned 424 restaurants, 418 of which were leased back to Darden subsidiaries through triple-net leases with 15-year initial terms on average.
FCPT's acquisition strategy is to decrease its reliance on Darden over time by purchasing properties that are well located, occupied by durable restaurant concepts, with creditworthy tenants whose operating cash flows are expected to meaningfully exceed their lease payments.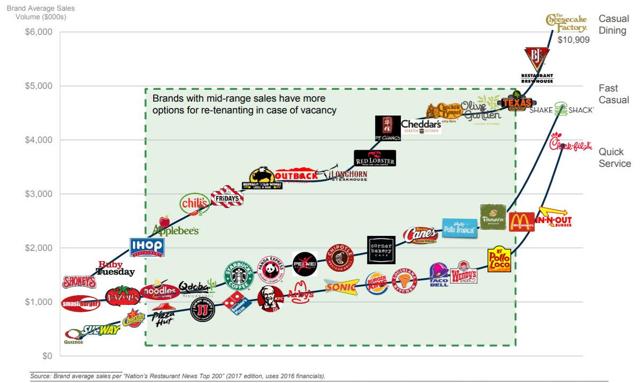 By virtue of its large scale, the U.S. restaurant industry offers a sizable pool of attractive property acquisition targets across different types of restaurant properties, including quick service (or QSRs), take-out, casual dining, fast casual, and fine dining, to enable diversified growth.
The addressable market of restaurant real estate is substantial despite FCPT's narrowed focus within retail sales. According to the Census Bureau and the Bureau of Economic Data, the food service industry had over $620 billion in sales in 2015, of which QSR and Casual Dining Restaurants comprise over $430 billion combined.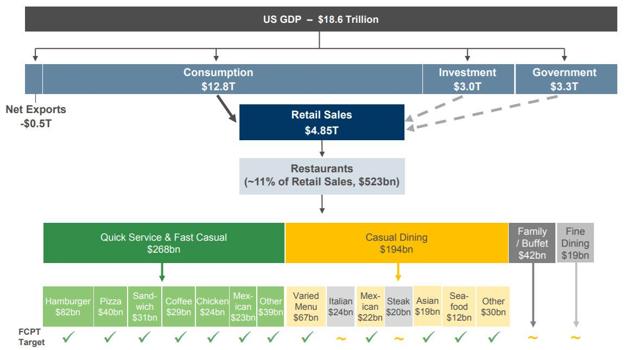 FCPT focuses on acquisitions that shift the portfolio to be more reflective of the national restaurant landscape, targeting QSR and some casual dining concepts, and with less focus on Italian and steak restaurants given the current portfolio concentration of Olive Garden and LongHorn Steakhouse restaurants. As illustrated below, FCPT has reduced exposure to Darden (from 100%) at the IPO to 87% (as of Q1-18).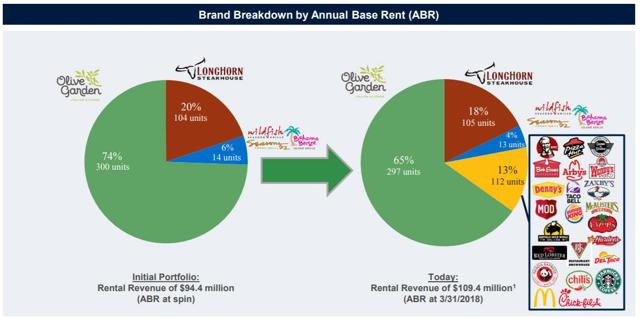 In January, FCPT closed on the purchase of ten restaurant properties from Washington Prime Group Inc. (NYSE:WPG), the first of two tranches in the forty-one-property portfolio announced in September 2017. The purchase price for the first tranche was approximately $13.8 million and represents ten different restaurant brands: Arby's, BJ's Restaurant, Buffalo Wild Wings, Chick-Fil-A, Chili's, McDonald's, Olive Garden, Panda Express, Red Lobster, and Starbucks. The second tranche is expected to close in Q2-18.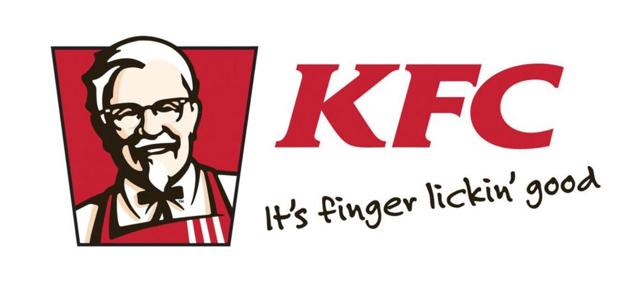 Reducing Darden Risk