The Ultimate Sleep Well At Night REIT
Summary
It's awfully painful shorting a REIT, especially one that has such a powerfully successful dividend growth platform.
Today I thought I would take the time to explain the "triple-net" conundrum that also happens to be the secret sauce behind the "ultimate sleep well at night REIT".
It's no myth – dividend-paying stocks have a history of outperforming non-payers, and the predictable dividend growth companies – like Realty Income – are almost certain to outperform.
As far as I'm concerned, Realty Income is the "ultimate sleep well at night REIT" and I have documented this description over many years, staring with my first article back in 2011 I explained,
"Benjamin Graham was aware that prices fluctuate based on emotions, interest rates, news, and outside forces; to protect the investor, an adequate "margin of safety" is necessary."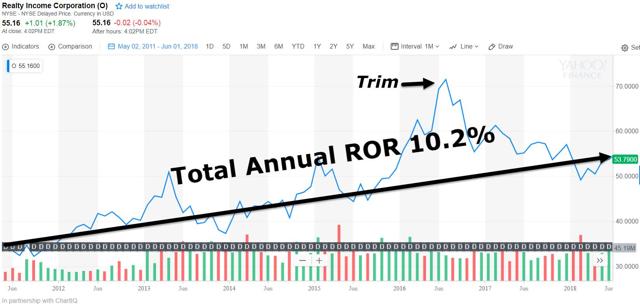 As you can, with the exception of a "Trim" recommendation in July 2016, I have maintained a BUY recommendation for over seven years, never fearful of the bearish sentiment brought on by many of the so-called market-timers. Even when I decided to trim exposure (in July 2016) I explained,
"KISS or not, this REIT is EXPENSIVE and I certainly do not recommend buying at today's price. In fact, I am recommending TRIMMING shares. However, I will continue to hold a healthy portion of my shares recognizing that the company is well positioned to take advantage of the most important KISS attribute: low cost of capital."
As interest rates began to creep up, it seems that the bears came out of hibernation, and of course I had to defend my BUY stance. For example, in February 2018 I came out, guns loaded, as I attempted to debunk a short-thesis, I explained,
"…my BUY recommendation is stronger than ever, and I am taking advantage of the noise to accumulate more shares…I can assure you that you will never see my shorting a BLUE-CHIP REIT like Realty Income."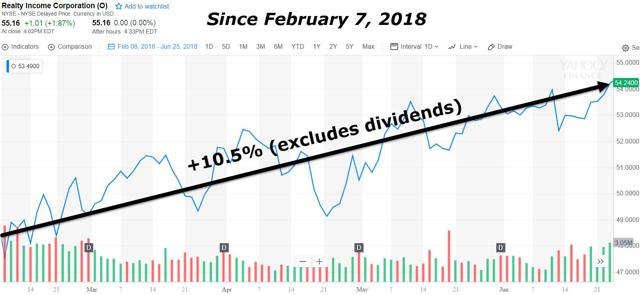 Ouch! It's awfully painful shorting a REIT, especially one that has such a powerfully successful dividend growth platform. I could understand shorting a REIT like Global Net Lease (GNL) or Government Properties (GOV) – both externally-managed REITs with dangerous payout ratios, but not Realty Income.
As I ponder that sentiment, I am intrigued by the many misconceptions surrounding Realty Income (O) and the catalysts that are often ignored. Perhaps the delusion is rooted in the argument that Realty Income is the so-called "bond proxy" within the REIT universe and so many investors get confused by the fear factor related to rising rates.
That's a common mistake, and one that can easily be deflated. Remember, rising interest rates do not pose a significant earnings headwind to the net lease business model, as illustrated below:

Now, as you see below, Realty Income was able to maintain sound investment spreads and grow earnings (AFFO/share) during periods of rising rates. And in order to grow earnings, the company has two value levers it can utilize: (1) internal growth (average rent bumps are 2.5% per year), and (2) external growth (acquisitions).

Realty Income is not the only Net Lease REIT that utilizes the same spread investing blueprint, and this is actually a very straightforward business model that is often either misunderstood or completely ignored. So today I thought I would take the time to explain the "triple-net" conundrum that also happens to be the secret sauce behind the "ultimate sleep well at night REIT."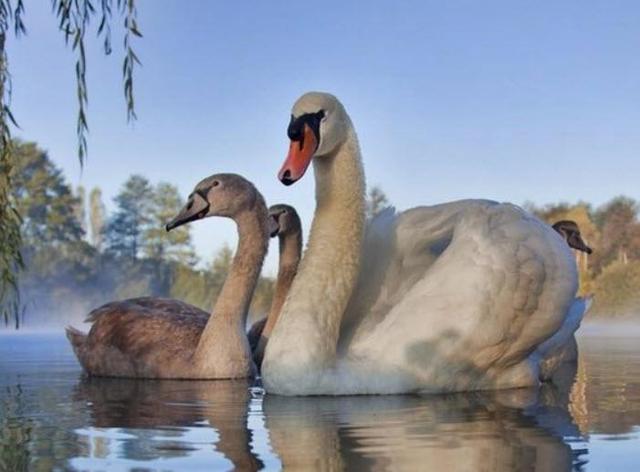 The Triple-Net Conundrum