The Bluest Of The Blue-Chip REITs
Summary
I will provide a textbook example of a blue-chip REIT, and in fact not just a blue-chip but "the bluest of the blue-chip REITs".
Realty Income is the "crème de la crème", the peach cobbler REIT, or the "bluest of the blue chips".
"Do you know the only thing that gives me pleasure? It's to see my dividends coming in." John D. Rockefeller.
Ralph Block, author of Investing in REITs, as not only a friend, but a highly-respected teacher, investor, and author. He is missed by all.
In one my favorite books, Investing in REITs, Ralph Block wrote:
"Blue-Chip REITs take you safely through the ups and downs in the sector's cycles and deliver consistent, rising, long-term growth in FFO and dividends, because they are financially strong and widely respected, they will always have access to the additional equity and debt capital that fuels the growth engine.

They will not always provide the highest dividend yields or even, in many years, the best total returns, nor can you buy them at bargain prices – buy they should provide years of double-digit returns with a high degree of safety. These are the REITs least likely to shock investors with major earnings disappointments and will provide very satisfying total returns."

Block writes that "the quality attributes of blue-chip REITs should be the standard by which all REITs are measured. Those qualities are: (1) outstanding proven management, (2) access to capital to fund growth, (3) balance sheet strength, (4) sector and geographic focus, (5) substantial insider ownership, (6) low payout ratio, and (7) absence of conflicts of interest."
As I ponder the list of blue-chip traits, three of these characteristics appear to be critical to a REITs ability to out-perform: balance sheet strength (access to capital), scale (sector/geographic focus), and management. The others are also important, but in my opinion, these three are the keys in separating a blue-chip REITs from the others.
In my article today, I will provide a textbook example of a blue-chip REIT, and in fact not just a blue-chip but "the bluest of the blue-chip REITs."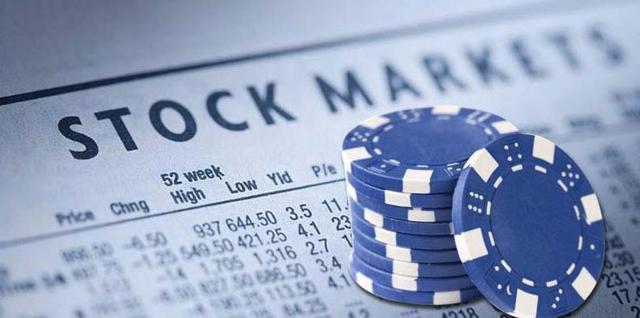 My Favorite Blue-Chip REIT
In an article last week I explained that "savvy analysts and investors should be smart enough to look into the financial statements and question whether or not the dividend can be maintained. It's also critical to look at the management's track record of paying dividends."
That's exactly what I plan to do today, as I analyze the most recent results for Realty Income (O), aka, "the monthly dividend company." If you're chasing yield, I suggest that you read my article from last week in which I explained:
"A high dividend can signal that a company is in distress – and investors who buy solely on the dividend may experience losses when the dividend's cut and the stock price declines in response. Ultimately, Mr. Market is forward-looking and usually detects the underlying problems – which of course are what made the stock "appear" attractive."
So, let's begin with a high level analysis of my favorite blue-chip REIT:
In Q2-18, Realty Income's occupancy based on the number of properties was 98.7%, an increase of 20 basis points. The company expects occupancy to remain north of 98% for 2018.
During Q2-18, Realty Income re-leased 47 properties, recapturing approximately 108% of the expiring rent, making this the 8th consecutive quarter of positive recapture rates.
In the first half of 2018, the company re-leased 102 properties, recapturing approximately 105% of the expiring rent. Since the listing (on the NYSE) in 1994, Realty Income has re-leased or sold 2,750 properties with leases expiring, recapturing 100% of rent on those properties that were re-leased.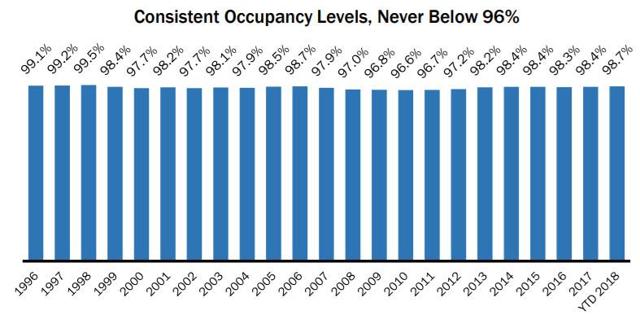 Also, in Q2-18, Realty Income's same-store rental revenue increased 1% and 0.9% for the first half of the year. These results were consistent with the company's projected run rate for 2018 of 1%, approximately 90% of leases continue to have contractual rent increases.

Realty Income's portfolio continues to be diversified by tenant, industry, geography, and property type, which contributes to the stability of cash flows. At the end of the quarter, the company's properties were leased to 257 commercial tenants and 48 different industries, located in 49 states and Puerto Rico.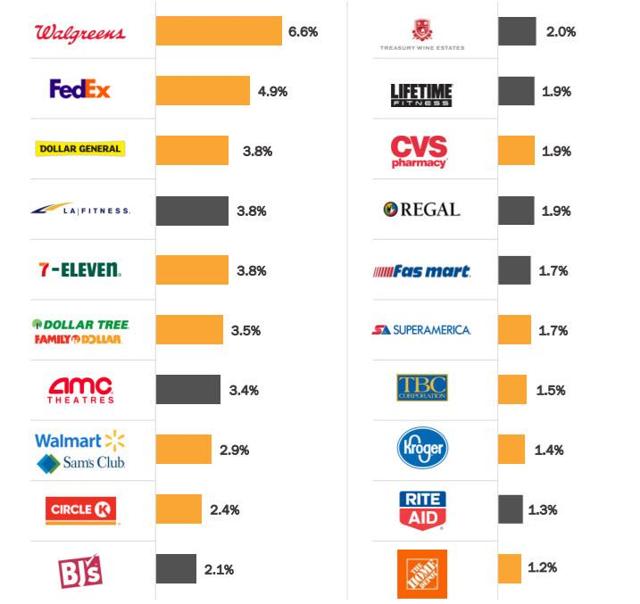 One Key Differentiator