Strong Buy Pick: Berkshire's Bet Paid Off Big
Summary
Perhaps irony or maybe not, the legendary value investor gave a thumbs up to STORE, less than 60 days after my STRONG BUY upgrade.
Heck, great minds think alike, don't ya think?
Ok. Back to reality.
To be clear, STORE is no Strong BUY now; "the margin of safety is ALWAYS dependent on the price paid.
As you know, I have written quite a few articles lately, thanks in large part to my growing number of Strong Buy picks that have become Seeking Alpha best-sellers. For example, just a few days ago, I wrote an article on EPR Properties (EPR), a uniquely-positioned Net Lease REIT that has become a popular pick for many monthly dividend patrons.
In that article titled "Become A Millionaire By Investing In This Monthly-Paying REIT," I was hoping to grab the attention of the readers by illustrating the allure of compounding, and the benefits of time and money. EPR shareholders have been rewarded handsomely; the stock has returned in excess of 33% since May.
Another article that was highly viewed was titled Booyah! This Strong Buy Has Returned 30%, in which I explained the impressive performance of LTC Properties (LTC). As another member of the Strong Buy club, LTC serves a valuable place setting in the "New Money Portfolio" as shares are up over 29% since May.
Then there's Kimco Realty (KIM), a Strong Buy pick that has been able to thwart the "retail apocalypse" narrative by maintaining a defensive business model centered around asset recycling and strict capital market discipline. Again, Kimco investors should be pleased that the stalwart REIT has bounced back (+21% since May).
Keep in mind, all three of these REITs were deemed Strong Buys because they screened cheapest in terms of their valuation. Recognizing that the margin of safety concept is the best way to "sleep well at night," we reserve only the Strong Buy term when referring to a high-quality company that could generate returns of at least 25% annually.
I always like to point to our successes when selecting Strong Buy picks and these three REITs are solid proxies (they have returned an average of 25% over the last 4 months). In chapter 16 of The Intelligent Investor, Benjamin Graham writes:
"In the old legend the wise men finally boiled down the history of mortal affairs into the single phrase, 'This too will pass.' Confronted with a like challenge to distill the secret of sound investment into three words, we venture the motto, MARGIN OF SAFETY."
Back in May 2017, I wrote an article titled There's More Inside This STORE Than You Think. Keep in mind, this article was published in 2017, before the Q1-18 REIT selloff. This means that there weren't as many Strong Buy picks, and that we have constantly maintained the strictest guidelines for selecting the deepest value names.
In that article, I drew attention to STORE Capital's (STOR) cheapness and insisted on the upgrade from BUY to STRONG BUY.
Perhaps irony or maybe not, the legendary value investor gave a thumbs up to STOR, less than 60 days after my STRONG BUY upgrade. On June 26, 2017, Berkshire Hathaway (NYSE:BRK.A) (NYSE:BRK.B) invested $377 million to become a 9.8% owner in Store.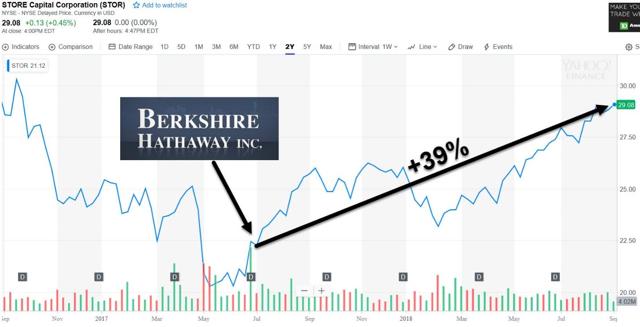 For the record, I recognize that the odds of me upgrading a stock to a Strong Buy and then in less than 60 days get Warren Buffett (actually Berkshire Hathaway) to follow my lead is 1-in-a-Million. But it certainly validates my sentiment and stock picking capabilities. Heck, great minds think alike, don't ya think?
Ok. Back to reality.
Since STORE has become such a hot stock, we have removed the Strong status and are now labeling the security as an ordinary Buy. Obviously, we are continuing to scan the REIT universe hoping to uncover the next one, before billionaire Buffett beats me to it. Let's check under the hood again at STORE….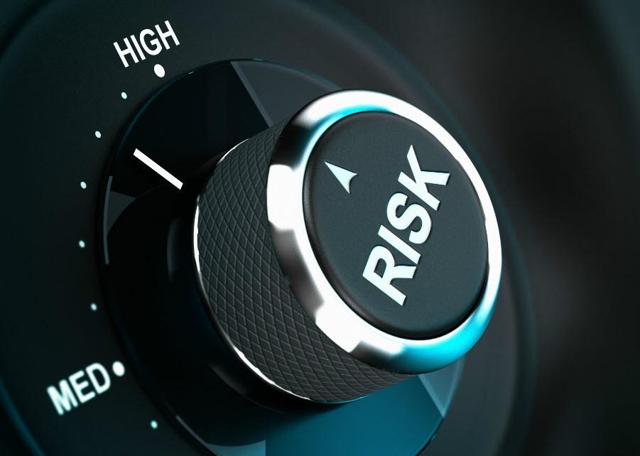 STORE Is a Unique Net Lease REIT