STAG Is Really In A Class Of Its Own
Summary
What we are seeing is that this level of demand is starting to filter down to these smaller markets.
Because of its Class B (secondary markets) industrial investment rationale, STAG enjoys low capital expenditures and lower tenant improvement costs (relative to other property types).
The level of warehouse demand is beginning to trickle down to the secondary markets where STAG dominates.
According to CBRE, "while primary industrial markets often have higher rents and lower vacancies for warehouse and distribution center space, research published (by CBRE) makes the case for increasing future growth for secondary industrial markets."
In a report, entitled "Pent-up Demand: Secondary Logistics Markets Poised for Accelerated Growth," CBRE explained that supply chain modernization has led to a warehouse development boom in primary markets that handle the majority of goods distribution, but adding that now the need for a deeper supply chain presence to cover regional locations is getting ready to accelerate secondary market growth.
"Slower warehouse rent growth in secondary markets may have been a constraint, but now that rents have pushed past pre-recession levels, the opportunity for increased development is here."
In an interview, David Egan, Americas Head of Industrial & Logistics Research for CBRE, explained that for the first half or even more of the current industrial real estate cycle going back to 2010, much of the user activity was focused on large, or Tier 1, markets, which are places where the majority of infrastructure exists, large populations are concentrated, and where much of the existing industrial stock already was.
"Those markets really led the charge, and as a result they saw the fastest-growing rent and fastest-declining vacancy rates, which was concentrated in those markets,"
With rents rising past pre-recession levels in secondary and tertiary industrial markets, those markets are behaving very well but relative to the overall market are still lacking a little bit. CBRE maintains there is a lot of opportunity in those markets, because there is still available stock to some degree, because there are still rents under control, and e-commerce users bringing access to customers in those markets.
Egan said, "You need to figure out how to get your product from wherever it is sitting to a person in New York, Atlanta, or Kansas City in the same amount of time. A warehouse in Atlanta can get an order to a customer there fast, but that same warehouse cannot service Kansas City as quickly. What we are seeing is that this level of demand is starting to filter down to these smaller markets."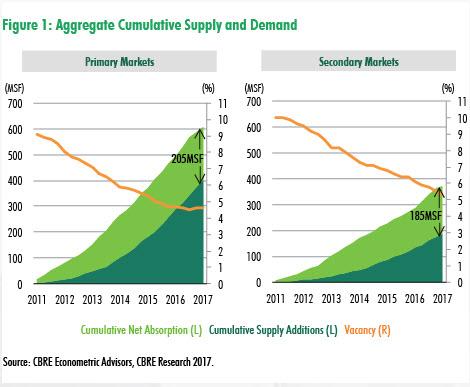 A few weeks back I wrote an article titled, Why STAG Is A Best-In-Class Sleep Well At Night REIT. Of course, STAG Industrial (NYSE:STAG) is considered an industrial REIT, but the company does not compete directly with the companies that focus exclusively on primary markets. With 352 properties in the portfolio, and a large majority located in secondary markets (51.3%), STAG is really in a class of its own. The company is differentiated by its secondary market focus and this provides an excellent opportunity for investors to capitalize on the powerful demand drivers of this uniquely positioned REIT.
What's STAG?