Spring Sale At Iron Mountain: Closing The Valuation Gap
Summary
Two weeks ago, Iron Mountain announced Q4-17 and full-year results. The market sentiment was negative and shares fell 10%.
As the company continues to shift its business mix to data centers, it will generate higher margins and the valuation gap should continue to narrow.
I am upgrading Iron Mountain from Buy to Strong Buy, as I believe shares could return over 25% annually in 2018 and 2019.
I began covering Iron Mountain (NYSE:IRM) in 2012, when the company announced it was considering a REIT conversion. The CEO at the time said "a key element of our strategic plan is a disciplined capital allocation strategy to increase stockholder payouts and the REIT structure supports this plan."
In December 2014, Iron Mountain announced that its registration statement was declared effective, and on January 20, 2015, the company held a special meeting for the purposes of voting on the REIT merger (between the company and Iron Mountain REIT). As I explained then:
"That's just a 'rubber stamp' though since Iron Mountain is already a REIT in many ways. The biggest hurdle for the Boston-based company was receiving a Private Letter Ruling (or PLR) from the IRS and specifically a ruling regarding the characterization of the company's steel racking structures as real estate. Earlier this summer Iron Mountain achieved IRS approval for REIT status retroactively as of January 1st, completing the process that began in 2012."
By converting to a REIT, Iron Mountain was forced to pay out at least 90% of taxable income to investors, resulting in a substantially higher dividend than it previously paid. Also, in addition to the clarity with regard to the definition of steel racking as real estate, Iron Mountain is considered somewhat of a hybrid as it relates to its REIT peer classification.
Although Data Center REITs have racking systems (like Iron Mountain), the business model is entirely different from traditional data storage or self-storage because of the service component that is associated with Iron Mountain's integrated data management business.
Conversely, Iron Mountain rents out space in larger buildings that are comparable to Industrial REITs. So in terms of peer orientation, it does not trade at full real estate values, and that valuation gap is the topic of this article.
Two weeks ago, Iron Mountain announced Q4-17 and full-year results. The market sentiment was negative, and shares fell 10% since February 15th.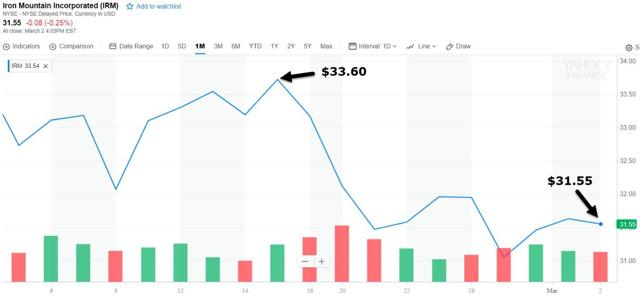 Like most REITs, Iron Mountain shares have also pulled back aggressively year to date. As you can see below, the Vanguard Real Estate ETF(NYSEARCA:VNQ) is down-11.5%, compared to -16.11% for Iron Mountain.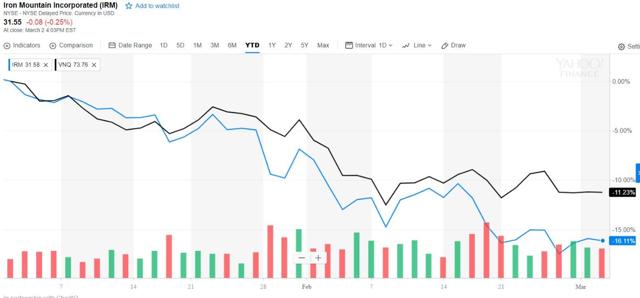 Of course, for a value investor, it's really easy to spot a "spring sale." As Thomas Bohjalian, CFA, executive vice president at Cohen & Steers, explains:
"One of the things we find that some investors and the financial press consistently get wrong about REITs is the relationship with interest rates – that if rates are rising, you shouldn't own REITs. This belief, however disconnected from historical evidence, often seems too ingrained to suggest otherwise.

Interest rates are part of the equation, and sudden moves in bond yields can create volatility. But REITs are not bonds. In an improving economy, landlords can raise rents as tenants fight for more space, potentially increasing cash flows to offset the effects of higher rates. In other words, it should matter why rates are rising, not simply that rates are rising."
Iron Mountain is now trading at a wider margin of safety, and I see credible indications of value that this REIT should deliver strong shareholder returns in 2018 and 2019. In a few days, I will be releasing my annual March Madness in REIT-dom research (for Marketplace subscribers), and are there some real bargains. I'm sharing one of these with you today.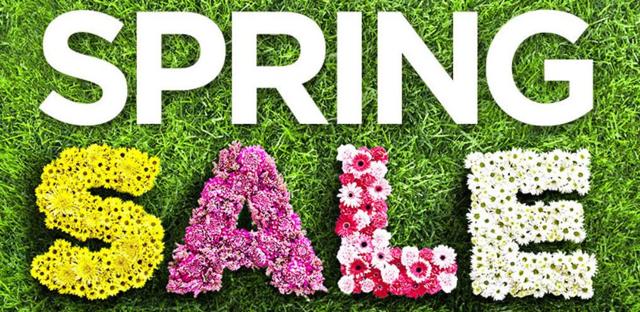 Iron Mountain Deserves Shelf Space