No Love For Cedar, There Are Better Low Hanging Fruits
Summary
The portfolio repositioning has left the REIT in a better place than it has been in years, but is it enough?
Activists are on its tail, causing the stock price to increase.
Our thoughts on this mid-Atlantic shopping center REIT.
A subscriber recently asked us to take a look at Cedar Realty, a beaten down shopping center REIT as he was aware we are very familiar with shopping center REITs – both as a developer (as Brad was) and analyst/investors (as both Brad and Rubicon are).  We have been meaning to do an update on this smaller retail REIT as it has recently been in the news and it has recently released its third quarter results.
Cedar Realty Trust, Inc. (CDR) is a fully-integrated real estate investment trust which focuses on the ownership, operation and redevelopment of grocery-anchored shopping centers in high-density urban markets from Washington, D.C. to Boston. The Company's portfolio (excluding held for sale) comprises 61 properties, with approximately 9.0 million square feet of gross leasable area.
Before getting into Cedar, it must be stated that the REIT has an activist investor on its tail – Snow Park Capital.  Snow Park has been involved with Dillards (DDS) and was part of the push that led Monogram Residential to ultimately sell itself to a private investment group. On September 29, 2017 it was revealed that Snow Park was focusing on Cedar and urging it to explore strategic options.
On October 25, 2017, Snow Park released a letter to the board of Cedar, in which it stated:
In fact, Snow Park estimates Cedar to have an NAV of $7.00 to $8.25 per share.3 We believe such NAV levels are readily attainable should the Company take the appropriate steps because its portfolio is comprised of highly liquid grocery-anchored shopping centers for which investment demand remains robust.  Snow Park has communicated with multiple firms, both financial and strategic, that have specifically expressed interest in Cedar's portfolio. Many of these parties have either formally or informally reached out to the Company, only to be rebuffed. Cedar's lack of willingness to even entertain a market check on the Company's assets has left shareholders suffering in an inefficient and underperforming REIT with very little hope that Cedar's discount to private market value will ever be closed.
Furthermore, we do not find credible management's claims that the "next leg of value creation" will come from the high-risk, mixed-use developments that it has described only in abstract terms and for which the Company has no core competence or identifiable experience. Even more baffling to us is that after researching certain projects, we have been unable to even find plans or permit information for them.8 We believe that management's claims are nothing more than an attempt to obfuscate their performance and garner another seven years to earn compensation packages more typically seen at Fortune 500 companies or professional athletic teams rather than tiny, subscale REITs.
Just today, the REIT announced that it has rejected an offer by Wheeler Real Estate Investment Trust (WHLR) as unrealistic (WHLR is less than $100mm market cap and the asset quality is different).  Wheeler, however, has sought to clarify the release:
On November 27, 2017, Cedar responded to Wheeler's correspondence by publicly releasing incorrect information suggesting that Wheeler offered to purchase Cedar.  In fact, the letter from Wheeler to Cedar's Board of Directors was simply a request for a meeting to discuss methods to enhance shareholder value, including possible acquisition opportunities.  Wheeler's correspondence did not include an offer.
In full disclosure, earlier this month, Nancy Mozzachio, Cedar Realty's former chief operating officer, filed a sexual harassment suit against the company and its CEO.  Snow Park is also using this to discredit management.  We disclose this because it has come up from the activist, not because we have an opinion or a complete understanding of the suit and/or its merits.
Portfolio
Cedar's portfolio is smaller than most of the grocery anchored shopping center portfolio and is primarily located on the East coast (mid-Atlantic states) in the DC to New York corridor.  The following map shows the states (and number of locations per state) in which their portfolio is located.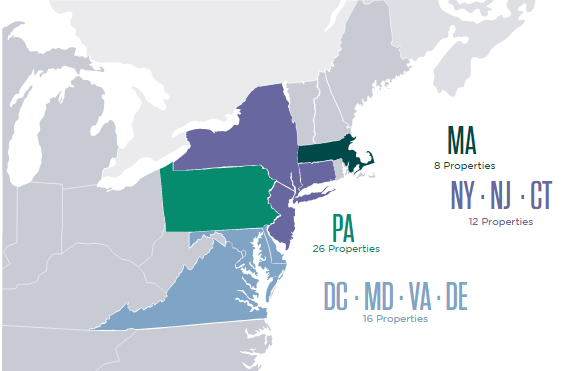 The focus is a result of Cedar's portfolio dispositions and repositioning since the financial crisis.
The following is Cedar's tenant list.  As it shows, the largest tenant is Giant Foods, followed by Shop Rite.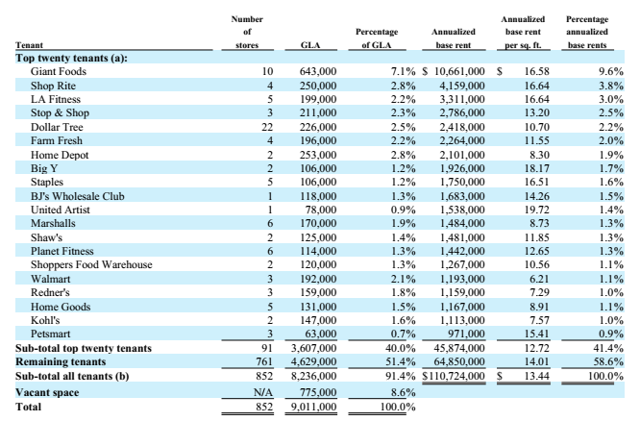 Grocery is over 20% of annualized base rents, lending some stability to the portfolio.
Given the pressure facing many types of retail businesses, Cedar's base rents, and hence net operating income, has been pressured.  While occupancy is nearly unchanged, the base rent per square foot has dropped.  As the REIT fills their vacant anchor space (85% re-leased with positive lease spreads and rents starting from now until late 2018), this metric should begin to improve.  That said, the third quarter saw new leases 5.2% lower while they were up 6.1% for the nine months ended 9/30/17.  This shows that the downward pressure on renewals has picked up (although this number can be somewhat volatile and dependent on the number of leases put in place or renewed).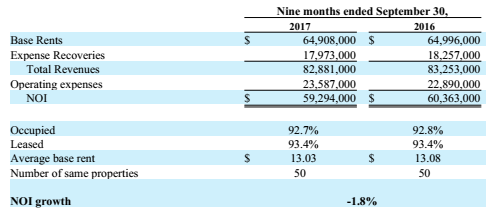 The graph of base rent per square foot shows the issues facing shopping centers – base rent per square foot is flat to lower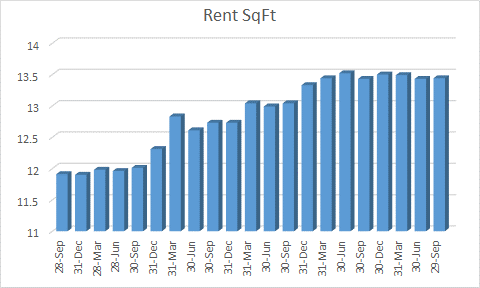 As the chart above shows, the portfolio repositioning had been increasing base rents with the focus on higher performing centers, but the environment (including anchor vacancy) has caused base rents to level off.
To summarize, Cedar's portfolio is a mid-Atlantic, grocery anchored shopping center portfolio.  While grocery has given the portfolio a stable base of revenues for the REIT, base rents have begun to drop and lease renewals face continuing pressure.  The portfolio is attractive, but is susceptible to the pressures facing the retail/shopping center REIT sector.
Financials
Cedar Realty has the following financial profile: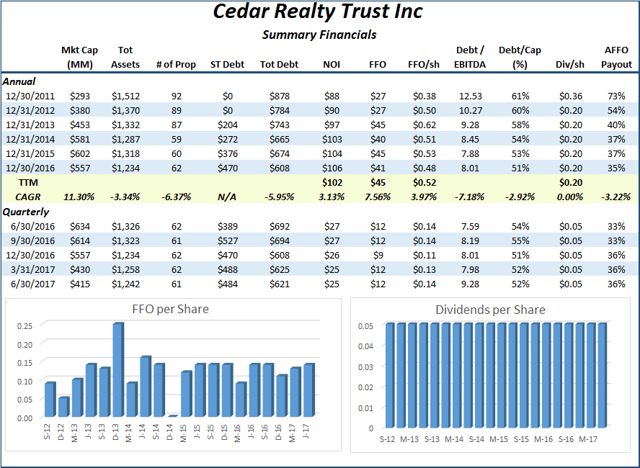 One of our main focuses is on debt and the impact debt could have upon a company.  As Cedar has repositioned their portfolio, they have reduced debt both relative to EBITDA and capitalization (we use book value for equity, rather than market for this calculation).  While debt to EBITDA has been generally falling, recent tenant weakness and its impact on EBITDA has caused their debt to EBITDA ratio to increase.  We believe that this ratio will stabilize at lower levels (mid to low 8 times) when the new anchor rent commencement begins.  While this level is somewhat higher than we would like, it is somewhat expected with a smaller REIT.
Cedar does not have any significant maturities or debt due until 2021, providing financial flexibility to the REIT.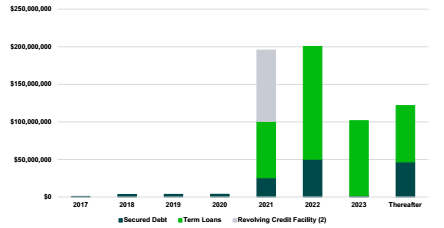 Similarly, the REIT's AFFO payout ratio, at just below 40% provides the REIT with the financial flexibility to spend capex on their properties without risking the dividend.
The highlights of their recent results are:
The Company's total portfolio, excluding properties held for sale, was 92.7% leased at September 30, 2017, compared to 92.4% at June 30, 2017 and 91.7% at September 30, 2016. The Company's same-property portfolio was 93.4% leased at September 30, 2017, compared to 93.2% at June 30, 2017 and 93.7% at September 30, 2016.
Four anchors which vacated in the fourth quarter of 2015 that occupied 211,000 square feet. As of today, the Company has leased approximately 85% of this vacant space at positive lease spreads of approximately 37% versus the prior tenants. The expected rent commencement dates for these new leases range from late 2017 through late 2018.
Same-property NOI for the third quarter of 2017 decreased (1.3)% excluding redevelopments and decreased (0.6)% including redevelopments, compared to the same period in 2016.
NAREIT-defined funds from operations (FFO) of $0.05 per diluted share after a $0.09 per share redemption charge related to Series B Preferred Stock
Operating funds from operations (Operating FFO) of $0.14 per diluted share
Signed 24 new and renewal leases for 138,000 square feet in the quarter
Comparable cash-basis lease spreads of 4.5%
Consistent with guidance, same-property net operating income (NOI) decreased 1.3% excluding redevelopment properties, and decreased 0.6% including redevelopment properties
The above results are consistent with what we have seen within Cedar and the broader sector as well – flat to declining NOI growth and the flow through to FFO and AFFO.  While we do not view the results as good by any measure, they are consistent with the sector and in this regard do not show any significant weakness that is Cedar specific.
Relative Value
In order to get a feel for the market's view of Cedar, it has to be compared to peers as well as its own historical valuation.  The following table provides a brief financial overview of Cedar relative to shopping center peers.

As the table above (and charts below) shows, Cedar is valued at the low end of the spectrum on a price to forward FFO multiple basis.  What stands out to us is that the REIT has a similar multiple to Kimco (KIM) and Brixmor (BRX) despite having a smaller portfolio, higher relative debt and a lower dividend yield (despite no growth in the dividend).
The price to eFFO multiple graphically: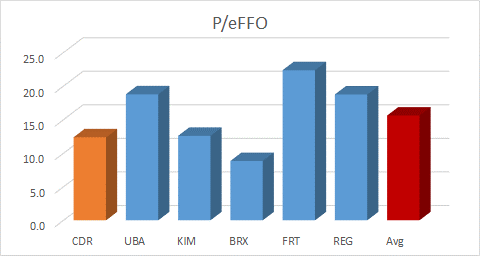 The dividend yield: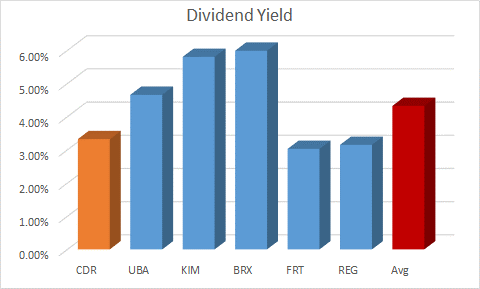 Looking at a different metric, base rent per square foot, it should be noted that Cedar has one of the lower base rent per square foot measures (which has been impacted by anchor vacancies):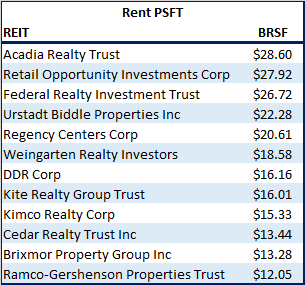 Graphically: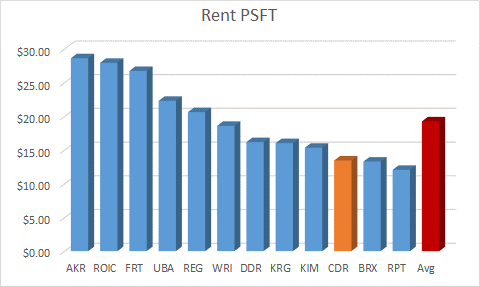 Ultimately, however, Cedar has performed in the middle of the pack among shopping center REITs, outperforming its larger peers Kimco and Brixmor: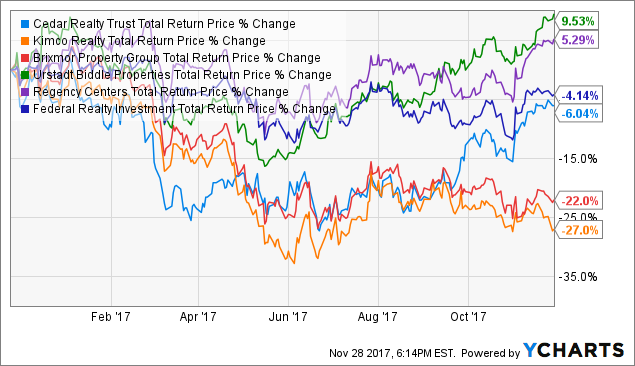 If viewed for the one-year period prior to the September 29, 2017 announcement that Snow Park had built a stake in the REIT, the performance gap narrows, but hardly closes: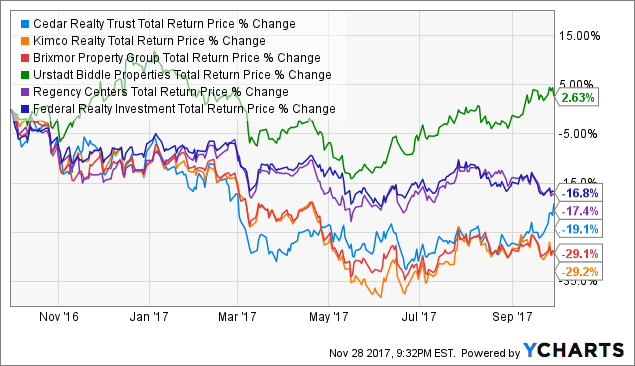 When looking at Cedar specifically we note the following trends:
Cedar diverged from the broader REIT market when the retail "big short" trade became popular and weakness in the retail/shopping center sector began showing up: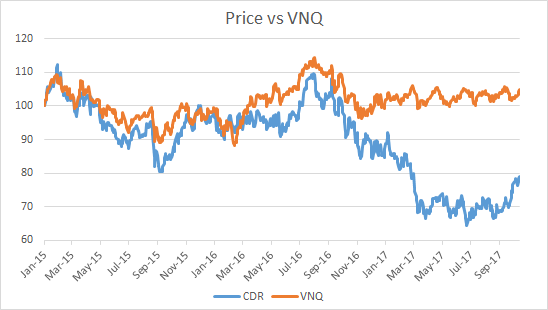 We do note, however, that relative to the index, the REIT has rallied – largely in response to an activist investor (Snow Park Capital) suggesting that the REIT should sell itself.
From a general trend perspective, until recently Cedar followed the same general path of the S&P Retail ETF (XRT), again, having broken the trend with the announcement of Snow Park: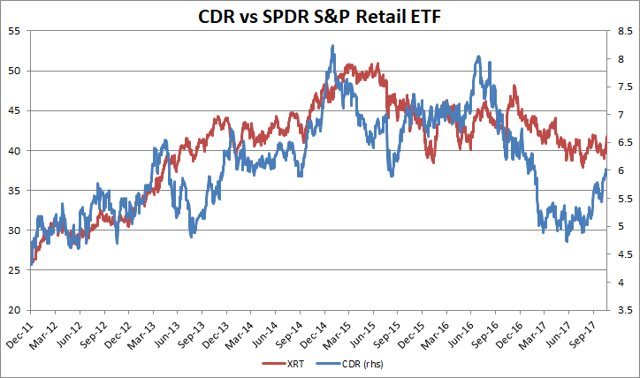 Cedar does, however, trade at nearly its widest yield premium to the risk free rate, due to the drop in the security and the sector: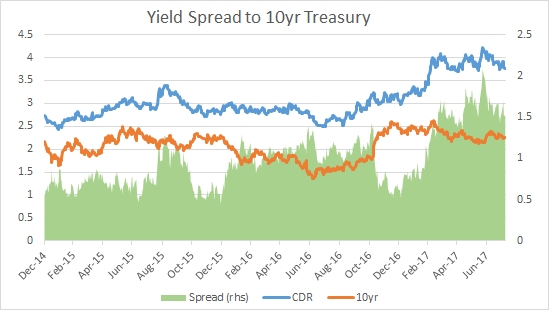 Finally, we decided to do a back of the envelope NAV calculation in order to create a NAV matrix based on NOI growth and potential cap rates: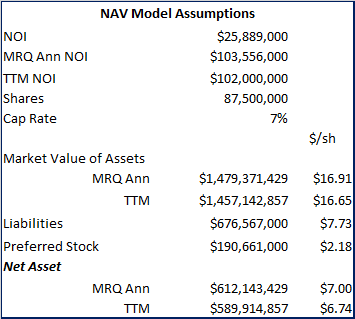 As the table above suggests, we looked at this from a trailing twelve month NOI basis as well as the most recent quarter annualized basis.  While we have highlighted the 0% NOI growth row, we remind investors that recent guidance was weaker and -1% NOI growth might be more appropriate.  We have also used a conservative 7% cap rate (highlighted).  The matrix should allow investors to get a feel for the NAV range and/or the NAV at their unique assumptions.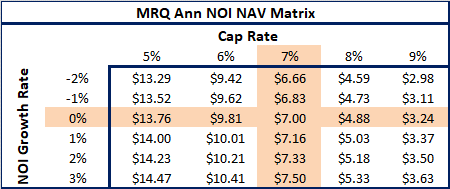 At the "baseline" on annualized MRQ, the NAV is approximately $7/share – approximately 15% higher than the closing price.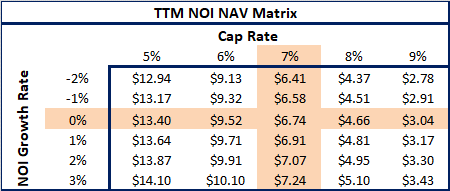 At the "baseline" on TTM NOI, the NAV is closer to $6.75, a 12% premium to closing price.
We caution investors about the use of general NAVs – or NAVs generally – due to the multiple assumptions that are necessary to create a NAV and the ability to monetize assets at assumed cap rates.
Cedar has a preferred stock outstanding (issued earlier this year), which offers investors a 6.50% yield (and importantly when an activist is involved, contains change of control language).  The yield is currently one of the highest yields available within the sector.

Graphically, the stripped yield of the peer group: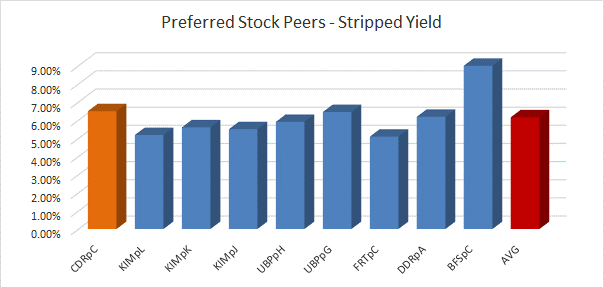 And the yield-to-call: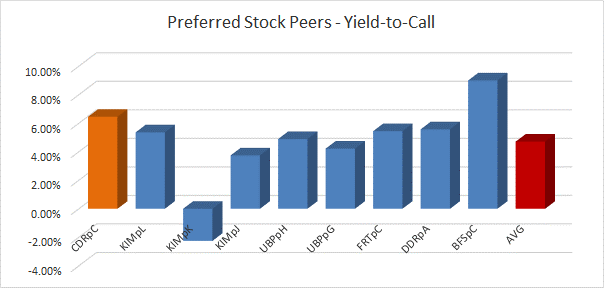 Bottom Line:  We believe that Cedar trades below its net asset value by 10-20%, which could be enticing to many investors – including Snow Park.  We tend to take a more holistic view, and prefer to invest in the business as longer-term investors.  From this perspective, while Cedar has done a decent job repositioning its assets, it is small and mid-Atlantic focused – at once a strength and a weakness.  The dense population demographics of the region make it a desirable region, but regional focus has worked for an against many firms and tend to make firms more vulnerable to regional cycles as well as larger cycles.  We prefer the bigger names in the space such as Kimco as they have superb management and a national footprint.  For this reason, we are more inclined to buy one of the "go to" shopping center REITs rather than a smaller player whose price has rallied on activist ownership.  We do like the preferred shares at around a 6.5% stripped yield as they have a decent call lockout and change of control language.
Rubicon is long KIM and BRX
Disclosure: I am/we are long KIM, BRX.
I wrote this article myself, and it expresses my own opinions. I am not receiving compensation for it. I have no business relationship with any company whose stock is mentioned in this article.