Happy Birthday America – From REIT To Shining REIT
Summary
So I hope you can see how I connect my love of Country and of Flag, love of Family, love of Commerce, and the opportunity of Being of Service.
These are my Four Big Notions, which frankly, move me, when I take any moment to think about them.
Happy Birthday America – From REIT to Shining REIT article, and I wish you all the very best and God Bless America.
Sometimes when I dream, it's of my boyhood, in Spartanburg, South Carolina – a city my family and I still live in. My dreams are very realistic, and reminiscent. And even when awake, there's a nostalgia, an ambiance that rolls freely throughout our town – from friendly, familiar storekeepers (yes, there are still some Mom & Pop places here), to the big, busy Haywood Mall, still doing robust business and a wonderful Cheesecake Factory.
The Fourth of July holiday helps me recall these feelings of old-fashioned values, sentimentality and patriotism, of family and friends, of even bigger notions, and appreciation of the small things. My indebtedness extends to the strength and courage of the Men & Women of our Armed Forces, who help to keep America safe – so we can enjoy and make the most of our lives, and enjoy the fruits of our labor.
Of course, my work life is all about the Real Estate. It's just been that way, since I can remember – as a kid I'd see pictures of buildings from around the world, in my updated copies of the World Book Encyclopedia (where my Dad worked as a top salesman).
My whole life has been dedicated in the arena of Commercial Real Estate – as a developer (right after college), as an investor, and now, adding nearly a decade of writing on the topic, for you – here at Seeking Alpha, and as editor of my newsletter, Forbes Real Estate Investor. (I've also worked for select companies and for private clients as a REIT consultant and advisor).
So I hope you can see how I connect my love of Country and of Flag, love of Family, love of Commerce, and the opportunity of Being of Service. These are my Four Big Notions, which frankly, move me, when I take any moment to think about them.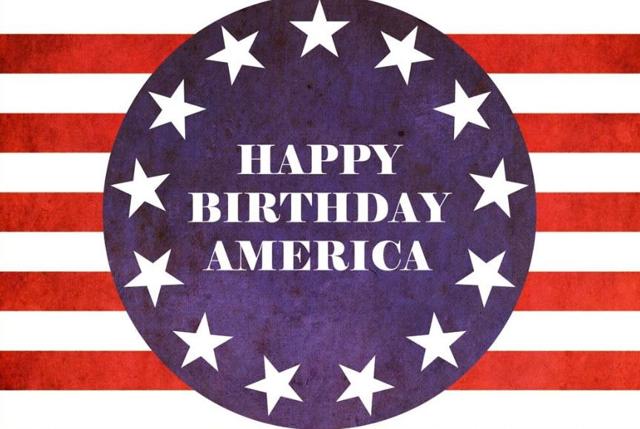 Beyond acknowledging the simple majesty of this holiday, my focus in this column, is to remind us of the miracle and magic of REIT investing.
For a quick refresher, U.S. REITs were established by Congress in 1960 to give all investors, especially small investors, access to income-producing real estate. Since then, the U.S. REIT approach has flourished and served as the model for more than 35 countries around the world. (The Intelligent REIT Investor is now available in China.)
It's ironic when you can consider the fact that during the same time that President Dwight D. Eisenhower was modernizing infrastructure in the U.S., by paving Interstate highways, that he was also "paving the way" for REIT investors to build wealth in the form of dividend investing.
On Sept. 14, 1960, President Eisenhower signed legislation that created a new approach to income-producing real estate investment – a manner in which the best attributes of real estate and stock-based investment are combined. REITs, for the first time, brought the benefits of commercial real estate investment to all investors – benefits that previously had been available only through large financial intermediaries and to wealthy individuals.
The REIT approach to real estate investment has been refined and enhanced over the ensuing years. REITs in the U.S. and increasingly around the world now regularly provide investors with the opportunity for meaningful dividends, portfolio diversification, valuable liquidity, enviable transparency and competitive performance.
Investors have responded to this investment opportunity. Nearly six decades after their creation, the U.S. REIT industry has grown to a $1 trillion equity market capitalization representing nearly $3 trillion in gross real estate assets, with more than $2 trillion of that total from public listed and non-listed REITs and the remainder from privately held REITs. That growth led, in part, to the creation of the new Real Estate headline sector in the Global Industry Classification Standard in 2016.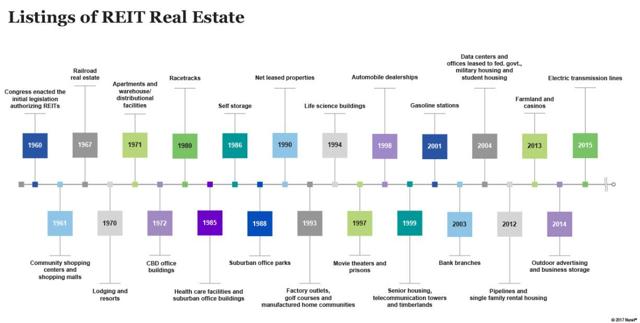 Source: NAREIT
Since their creation in 1960, REITs have grown in size, impact and market acceptance. The creation of headline real estate sectors – populated mainly by REITs – in leading industry classification standards underscores the growing importance of REIT-based real estate investment in the equities marketplace.
In addition to the "core" food groups – retail, office, apartments, and industrial – the REIT sector has mushroomed into a suite of property sectors and sub-sectors such as data centers, cell towers, prisons, hotels, self-storage, healthcare, net lease, student housing, single family residential, energy, billboards, and casinos.

REITs have historically produced a track record of strong performance. The industry's track record has resulted in a broader acceptance among institutional investors, financial advisors and retail investors.
Although REITs were held back in Q1-18 amid heightened short-term sensitivity to interest rates, they have outperformed the broader stock market for four consecutive months. We have upgraded a number of REITs from BUY to STRONG BUY based on prospects for economic growth, supported by a continued upturn in the business cycle, and continued job growth amid one of the broadest global expansions on record (with added fuel from $200 billion in tax cuts for 2018).
In the July edition of the Forbes Real Estate Investor we explained that our New Money Portfolio (consists of all STRONG BUYs) returned over 5% in June and around 5% in May. You could say that REITs were created for this very reason/purpose that Congress intended: to give you a real stake in the future of the country, from REIT to shining REIT.
Let's Get Strong!