Getty Realty Is Pumping Premium Dividends
Summary
GTY's net lease portfolio of convenience stores and gas stations are located in both urban and infill growth markets.
Industry profits are at record highs due to growth on in-store sales, led by strong demand for foodservice products.
We are maintaining our SPEC BUY recommendation, with caution toward significant overweight allocations.
Back in February I asked, "Are You Ready To Buy Shares In Getty?"
At the time of that article, shares in Getty Realty (GTY) were yielding 5.3% and I proceeded to initiate a SPEC BUY. I explained that "GTY has grown its dividend by around 12% over the last few years, and based on the 2018 AFFO Payout Ratio (77%), the company has room to grow."
Julian Lin also weighed in on Getty and he was less bullish, suggesting that Getty had 30% downside. His bearish sentiment was rooted in Getty's underlying assets, as he wrote, "I see no reason why Getty Realty should trade at equivalent valuations to Store Capital, National Retail Properties, or even Spirit Realty."
Now, seven months since my article, Getty has delivered, shares have returned 18% and on track to deliver our targeted returns year to date: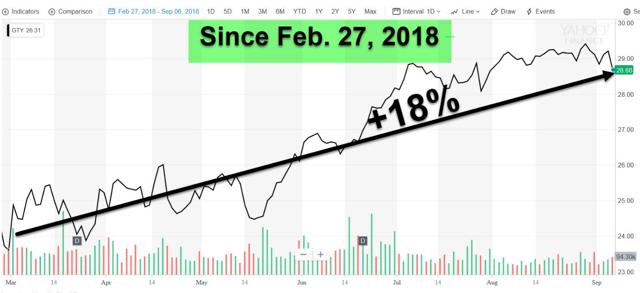 As illustrated below, Getty has performed in line with the net lease REIT peers: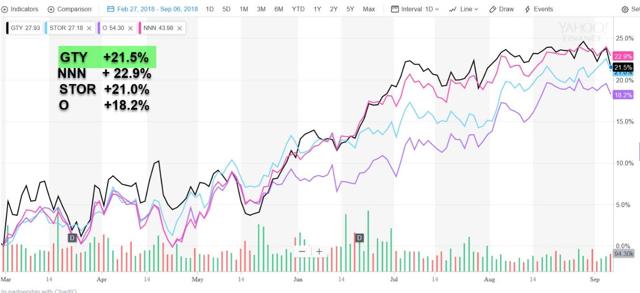 I'm not here to refute Lin's article, and in fact, I think we are both in agreement that Getty is a sound stock and that the company's business model is unique to the peer set.
Today, I want to take a closer look at Getty because I believe that the biggest catalyst, often ignored by many, is the same one that gets you to work, schools, malls, restaurants, and just about anywhere…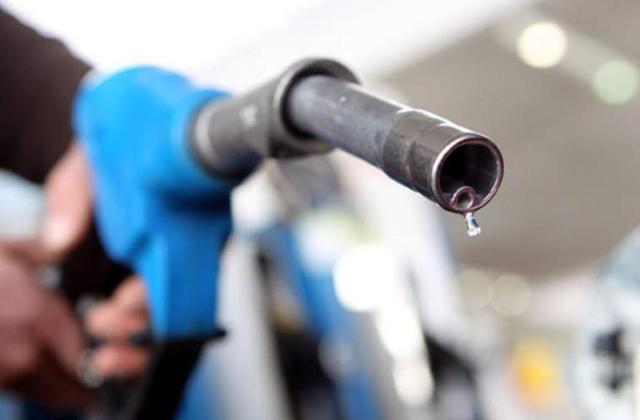 Let's Get Started