Debunking The Myths Of STAG
Summary
It's true that in a secondary market, a substantial spread is necessary given that NOI growth is typically less.
However, investors are compensated for the higher income yield.
I am going to provide my counter-argument that there is adequate reward for secondary market risks.
One of the most frequently cited reasons to invest in secondary markets is that income and cash yields tend to be higher than those generated by similar assets in gateway markets.
When capitalization rates in secondary markets are higher, there are usually 100-125 basis points of additional yield over that generated by similar properties in gateway markets. These outsized yields tend to be viewed as less volatile and produce a more durable income stream, which is of particular interest to investors.
See my article on cap rates HERE.
In a recent Seeking Alpha article, author Beyond Saving explained:
While secondary markets can offer windows of opportunity relative to primary markets, in the long run they have deeper troughs, lower highs and faster crashes.
While the author and I agree that in "secondary markets, the initial yield is higher", I disagree with him that "growth is substantially constrained".
My primary beef is not that secondary markets' NOI growth is "constrained", but it is more the fact that he used the word "substantially" in front of it.
It's true that in a secondary market, a substantial spread is necessary given that NOI growth is typically less (than that in gateway markets); however, investors are compensated for the higher income yield.
Another risk related to the secondary market strategy is the fear of the rising interest rates environment. Rising rates will cause capitalization rates to increase, putting downward pressure on asset values, and slower-growth markets are particularly susceptible to erosion of asset values.
This is primarily a result of NOI growth (in secondary markets) being insufficient to offset rising interest rates, whereas gateway markets tend to experience stronger NOI growth and are better equipped to absorb capitalization rate increases. Rising cap rates with limited NOI growth could cause residual values to decline and, consequently, total returns to decline as well.
Also, unlike gateway markets such as San Francisco and New York City that tend to have very high barriers to entry, Midwestern and southern markets such as Cincinnati; Greenville/Spartanburg, South Carolina; and Atlanta have greater land availability, causing supply concerns since the potential for competing development may be higher.
While the other Seeking Alpha writer sparks a healthy debate that investing in secondary markets could "play the role of the canary when the next slow down comes around", I am going to provide my counter-argument that there is adequate reward for secondary market risks.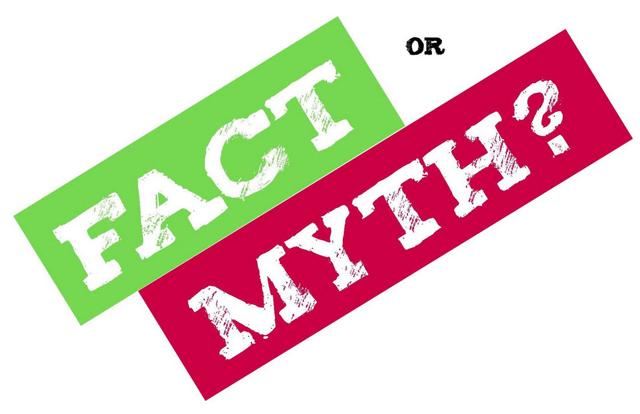 Debunking The Myths Of STAG
Before getting started, I want to confess that STAG Industrial (NYSE: STAG) is not a Net Lease REIT. From time to time, I have included the company with other Net Lease REITs in the peer analysis, and I want to make it clear that STAG is not a Net Lease REIT.
Instead, STAG is an Industrial REIT that went public in 2011 (the predecessor was STAG Capital Partners that formed in 2004), and since that time, the company has grown from 105 buildings to 314 buildings in 37 states, with approximately 60 million rentable square feet, consisting of 243 warehouse/distribution buildings, 54 light manufacturing buildings and 16 flex/office buildings.

STAG owns standalone (or free-standing) buildings, and the company's average building size is around 209,000 square feet. That's important because it ranks 2nd in terms of the largest industrial REITs based on average building size. Around 87% of STAG's buildings are warehouse or distribution properties.
STAG has grown rapidly since the IPO. The company's stated goal of acquisitions is 25% annual portfolio growth, and it stated that its pipeline of potential acquisitions exceeds $1.9 billion.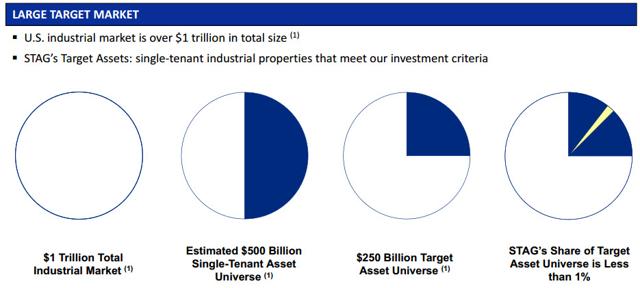 STAG has found that primary (24%) and secondary markets (63%) have similar occupancy and rent growth experiences. Furthermore, secondary industrial property markets generally provide less rent volatility and equivalent occupancy compared to primary industrial property markets.
As illustrated below, historical primary and secondary market occupancy levels are very similar. "Super" primary markets histrionically operate at an occupancy level above primary and secondary markets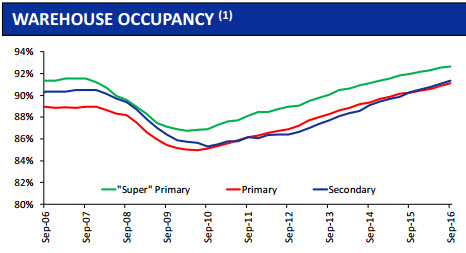 As illustrated below, secondary market rent growth has performed in line with primary market rent growth over the past ten years. Also, super primary market rent growth has displayed greater volatility compared to primary and secondary markets.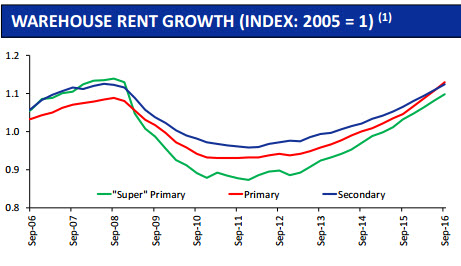 Keep in mind, the source for this data is CBRE. Also, the super primary markets are Chicago, Dallas, Los Angeles, Miami, Northern New Jersey, and Riverside; primary markets contain greater than 200 million SF; secondary markets contain 25-200 million SF.
There is simply no myth related to STAG investing in secondary markets – it's quite the opposite. The company intentionally invests in secondary markets due to the rationale that it enjoys low capital expenditures and lower tenant improvement costs (relative to other property types). Also, STAG's tenants tend to stay longer, since moving costs and business interruption costs are expensive relative to relocating a "critical function" facility.
Quite simply, it really boils down to how the company's management team has been able to manage the risks within its portfolio. Let's explore that point further.
Aggregation Reduces Volatility
As I pointed out above, I agree that there is higher risk in secondary markets; however, as an investor in STAG, I am trusting the management team to manage the risk.
STAG refers to its well-diversified model as a "virtual industrial park". It makes sense, since the REIT's portfolio of properties represent many of the different categories that you would see while driving through a large industrial park. Here's a snapshot of STAG's category make-up: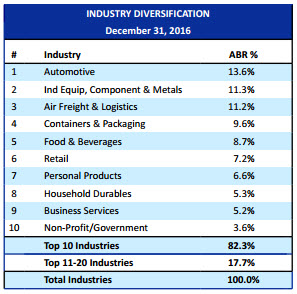 As illustrated above, it has outsized automotive exposure, and this material concentration should be advantageous given President Trump's economic growth policies. The U.S. has already seen a number of automotive announcements since Trump's election, and this continued growth should benefit STAG's business model.
To mitigate secondary market risks, STAG has built an impressive portfolio that provides well-balanced tenant diversification. As illustrated below, its largest tenant represents just 3.1% of ABR, and the top 10 tenants represent just 14.9%: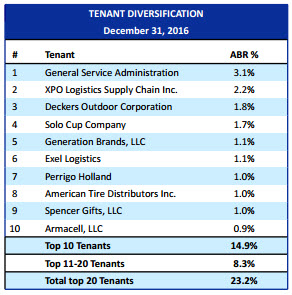 STAG has also increased in scale since going public, and the company's geographic diversification has improved considerably: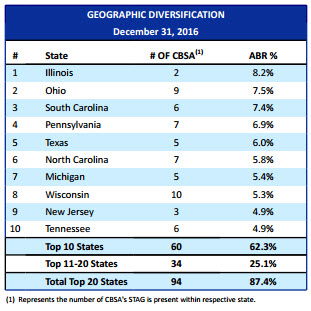 It has also expanded west as the company has now formed a hub with properties in Oregon, Idaho, and Nevada.
Further, STAG has limited REIT competition in many of its core markets, as a majority of the peer group consists of private investors. Here's a breakdown of the company's portfolio based on location classification:

Finally, one misconception (or so-called myth) as it relates to STAG is the fact that it does not evaluate prospective deals carefully. While the company does invest in secondary markets, it does so by thoughtfully evaluating each acquisition through a structured probabilistic risk assessment model. As illustrated below, the selectivity represents over 1,000 sites evaluated and 1/3rd of them being underwritten. Offers were made on around 20% (of the 1,000), and the company closed on around 3.3%.
In other words, STAG has maintained a very disciplined acquisition model in order to filter out the best opportunities. So it's not just that the company is investing in secondary markets, it's simply that STAG is investing in the BEST deals available in these secondary markets.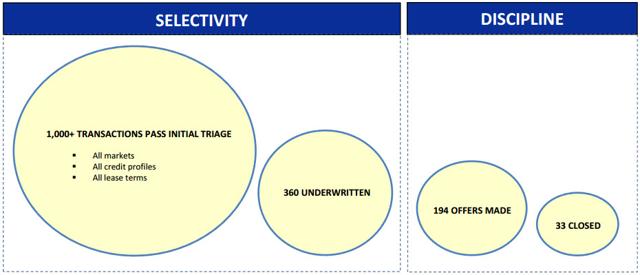 What Does STAG Do Best?
Acquisitions is just one part of its risk management process; the company also maintains a high degree of discipline as it relates to its balance sheet.
STAG's balance sheet is strong and in line with its BBB (Fitch) investment grade rating. On November 2, the company fully repaid its series A preferred that had a coupon of 9% (and notional balance of $69 million).
At quarter end, STAG's immediately available liquidity was $431 million, with a net debt-to-run rate EBITDA of 5.1x, and the fixed charge coverage ratio was 3.3x.

At quarter end, STAG had approximately $1 billion of debt outstanding, with a weighted average maturity of 5.6 years and a weighted average interest rate of 3.75%. All of the debt is either fixed rate or has been swapped to a fixed rate, with the exception of the revolver.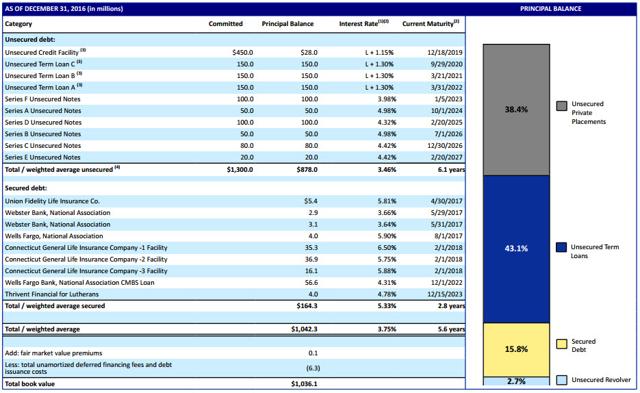 As noted above, the REIT's principal competition in acquiring buildings is local private buyers, and they are more dependent on leverage than STAG. Thus, rising interest rate increases will impact them more adversely. Here's a copy of STAG's well-balanced debt maturity profile:

Risk management is an essential element of the investing process, and while STAG does maintain elevated market-based risk (i.e., secondary markets), the company is able to mitigate the risks by adhering to a highly disciplined balance sheet strategy. After all, discipline is the fuel for dividend growth.

The Most Important Thing
In one of my favorite books, The Most Important Thing, the author (Howard Marks) explains:
Risk assessment if an essential element in the investment process.
I greatly appreciate the fact that Beyond Saving wrote an article on STAG's secondary market risks. After all, risk assessment is an essential element in the investing process.
More importantly, recognizing risk is just the beginning. The next step is to understand that "great investing requires both generating returns and controlling risk". Howard Marks goes on to explain:
Outstanding investors, in my opinion, are distinguished at least as much for their ability to control risk as they are for generating returns.
During Q4-16, STAG acquired 24 buildings for a purchase price of $220 million, with a weighted average cap rate of 7.7%.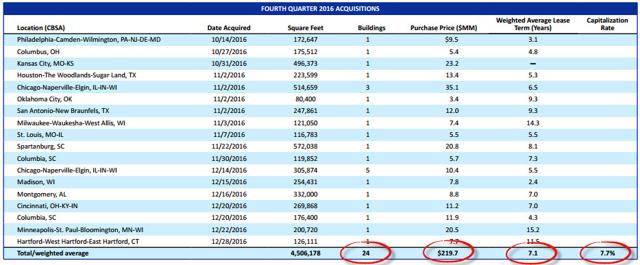 For the year, the company acquired 47 buildings for $472 million, representing a 7.9% cap rate.

These acquisitions are consistent with STAG's prior acquisitions in terms of tenant and asset quality, as well as deal parameters. The REIT expects to close between $500 million and $600 million in 2017, with stabilized cap rates ranging between 7.5% and 8%.
Also during Q4016, STAG disposed of 10 buildings for $103 million. The company expects to have non-core and opportunistic dispositions of between $40 million and $80 million in 2017.

STAG's occupancy for the operating portfolio stands at 95.7%, with an average lease term of 4.2 years. The quarter's operating portfolio cash and GAAP rent change for signed leases were up 6% and 10%, respectively.

In Q4-16, STAG had a retention rate of 69.1% on the 1.8 million square feet expiring in the fourth quarter. The operating portfolio's cash and GAAP rent change for the retained tenants were both up 2% and 11%, respectively. The REIT expects retention for the full-year 2017 to be approximately 70%.

In Beyond Saving's article, he states that "STAG already suffers from one of the lowest retention rates in the sector", and he cites the company's lease expirations:

Keep in mind, STAG operates an institutional quality operating platform, and that means that the company is capable of addressing every aspect and tenant scenario. STAG has in-house construction and engineering professionals that oversee capital projects, roof replacements, and general site- and tenant-specific work. Also, as referenced above, its diversification efforts will continue to reduce retention risk.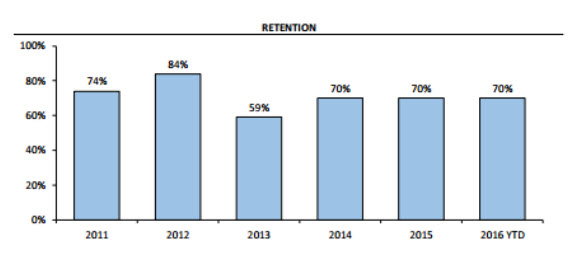 From an operation standpoint, STAG's cash NOI for the quarter grew by 13% from the prior year. Same-store cash NOI grew by approximately 2.8% over the prior-year fourth quarter and grew 2.6% for the year.
Core FFO grew by 17% compared to the fourth quarter of 2015. On a per share basis, Core FFO was $0.42 per share – an increase of approximately 5% compared to last year (this quarter represents STAG's highest per share quarter in the company's history). On an annual basis, core FFO per share increased 6%.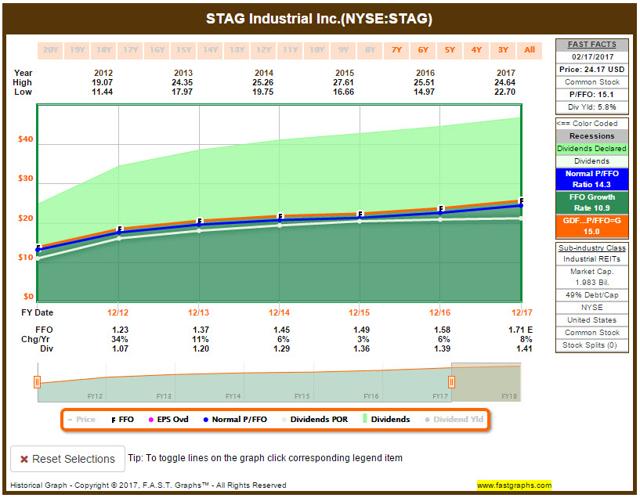 Doing It Well Is What Separates The Best From The Rest
As Howard Marks wrote, "risk is inescapable", and "when you boil it all down, it's the investor's job to intelligently bear risk for profit. Doing it well is what separates the best from the rest".
The chart below represents FFO/share data for STAG and the peers. Note: I included 2017 and 2018 estimates (using F.A.S.T. Graphs):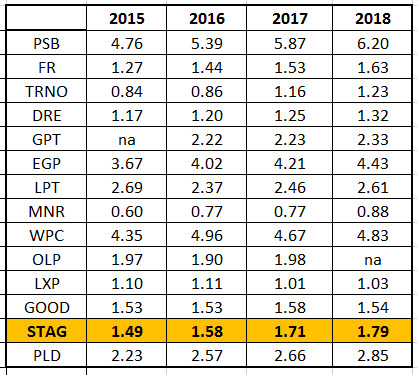 Now let's use the data based on % growth: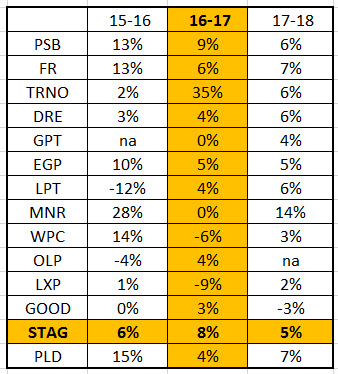 Quite clearly, STAG's secondary market model is working; the company is projected to grow FFO/share by 8% in 2017. Now let's take a closer look at its dividend growth model: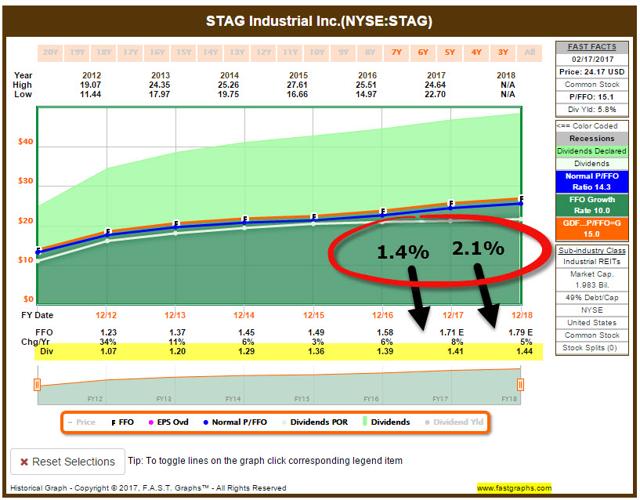 STAG's forecasted dividend growth in 2017 (+1.4%) and 2018 (+2.1%) is nothing glamorous, but how safe is the payout ratio?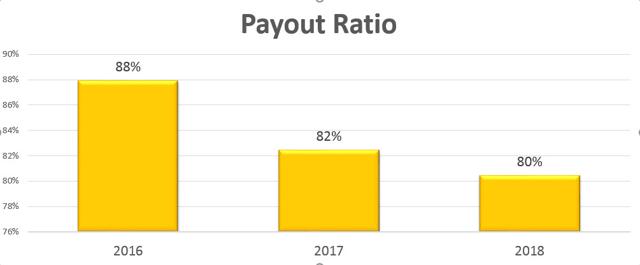 Wait a minute!
STAG has been reducing its payout ratio since going public, and the company is continuing to build a margin of safety with its dividend. This tells me it is thoughtfully managing risk to protect against any unforeseen events (i.e., secondary market risk), while also enhancing diversification (also to protect against secondary market risk).
How does STAG compare with its peers based on these valuation metrics?

Before you get too excited, remember that Gladstone Commercial's (NASDAQ:GOOD) payout ratio is 98% and One Liberty Properties (NYSE:OLP) payout ratio is 86%. Also, GOOD has negative growth forecasted in 2017 (aka, this REIT is a "sucker yield").

Summary
STAG reported strong performance in Q4-16, and the company has differentiated itself by acquiring high-quality buildings in secondary markets where the public REITs don't generally fish. Although STAG doesn't provide acquisition guidance, it is clear that the company is well positioned to continue to grow in the range of 20% per year.
With a heavy concentration in the Midwest and Southeast, STAG should see benefits from the Trump administration's efforts to bring in more manufacturing jobs. We are maintaining a BUY based upon the REIT's attractive 5.8% dividend yield and NAV growth that the external growth model delivers.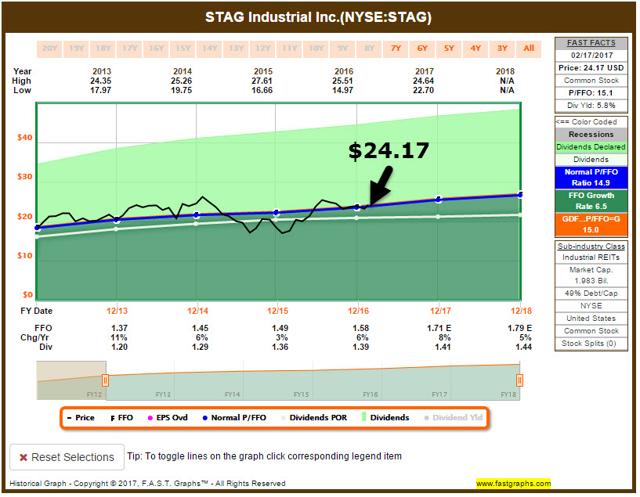 Finally, the key to STAG's investment thesis (diversification) is also the key to any intelligent investing thesis: ALWAYS DIVERSIFY.
Investors should own buildings and stocks that demonstrate a strong economic composition that will ensure NOI growth potential is maximized and sustainable. Through a thoughtful REIT investment strategy that focuses on the highest-quality markets, locations, and assets, investors can navigate the drawbacks of secondary markets and provide a practical dividend income component to their overall real estate portfolio.
I added this chart on 2/21/17: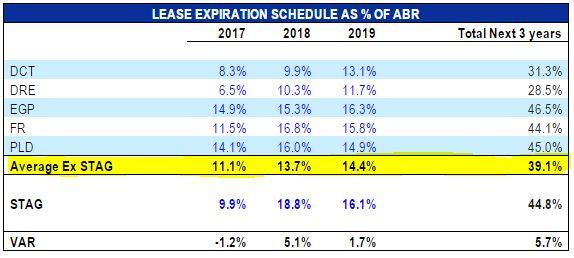 Check out The REIT Beat if you'd like to get more of my ideas, including early access to my highest-conviction REIT plays, access to Q&As with management teams, weekend REIT reports, and more. We'd love to have you on board, so have a look.
Source: F.A.S.T. Graphs and STAG Filings.
REITs mentioned: PS Business Parks (NYSE:PSB), First Industrial Realty Trust, Inc. (NYSE:FR), Terreno Realty Corp. (NYSE:TRNO), Duke Realty Corp. (NYSE:DRE), Gramercy Property Trust (NYSE:GPT), EastGroup Properties Inc. (NYSE:EGP), Liberty Property Trust (NYSE:LPT), Monmouth Real Estate Investment Corp. (NYSE:MNR), W.P. Carey (NYSE:WPC), Lexington Realty Trust (NYSE:LXP), and Prologis (NYSE:PLD).
Author Note: Brad Thomas is a Wall Street writer, and that means he is not always right with his predictions or recommendations. That also applies to his grammar. Please excuse any typos, and be assured that he will do his best to correct any errors, if they are overlooked.
Finally, this article is free, and the sole purpose for writing it is to assist with research, while also providing a forum for second-level thinking. If you have not followed him, please take five seconds and click his name above (top of the page).
Disclaimer: This article is intended to provide information to interested parties. As I have no knowledge of individual investor circumstances, goals, and/or portfolio concentration or diversification, readers are expected to complete their own due diligence before purchasing any stocks mentioned or recommended.
‐
Disclosure:I am/we are long APT, ARI, BXMT, CONE, CORR, CCP, CCI, CHCT, CLDT, CUBE, DLR, DOC, EXR, FPI, GPT, HTA, HASI, KIM, LADR, LTC, LXP, O, OHI, QTS, ROIC, STWD, SNR, STAG, SKT, SPG, STOR, TCO, UBA, VTR, WPC, PEI, EQR, DEA, MVEN.
I wrote this article myself, and it expresses my own opinions. I am not receiving compensation for it (other than from Seeking Alpha). I have no business relationship with any company whose stock is mentioned in this article.