A Global Real Estate L.P. That Yields 6.4%
Summary
BAM is the external manger to BPY that was spun out in 2013 as the "everything real estate" holding company.
BPY is a Bermuda-based L.P. that generates K1's as opposed to 1099's, so certain investors are unable to own shares because the structure is not as tax friendly.
L.P.'s (like BPY) cannot be listed in the RMZ or NAREIT Indexes, so it was necessary for BAM to structure the GGP deal specifically to fit into the REIT mold.
I can foresee the potential for BPR to further consolidate BPY trophies, including the Rouse Mall portfolio.
I can now tell my friends, "I own a piece of Hudson Yards".
Many readers have asked me to write an article on Brookfield Property Partners, L.P. (NYSE:BPY) and up until recently, I have not been able to find the time to do my necessary homework and provide a research report. However, a few things have changed so now I can finally deliver on my promise.
Hopefully, (in the next edition of my newsletter) I will be able to make contact with the management team at BPY. Although the company is structured as a Bermuda-based Limited Partnership (or L.P.), there will soon be a REIT underneath the entity referred to as Brookfield Property REIT (proposed: BPR).
This may seem complicated, so I will attempt to dummy this down…
Brookfield Asset Management (NYSE:BAM) is the external manger to BPY (as I said, this is a Bermuda-based L.P.) that was spun out in 2013 as the "everything real estate" holding company for BAM. Essentially, BPY is the flagship holding company for BAM, and in addition to BPY, BAM is the asset manager for three other flagship vehicles (all are Bermuda-based L.P.'s): Brookfield Infrastructure Partners (BIP), Brookfield Renewable Partners (BEP), and Brookfield Business Partners (BBU).
Brookfield Infrastructure Partners is one of the world's largest private sector investors, owners and operators of infrastructure assets globally across utilities, transportation, energy, communications infrastructure and sustainable resources.
The portfolio, grounded in more than 100 years of investment experience, provides diversified exposure to scarce, high-quality businesses with significant barriers to entry. BIP's long-term objective is to generate steady and growing returns to investors. BIP yields 4.85%.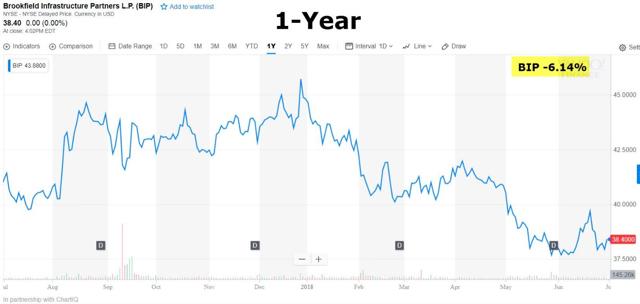 Brookfield Renewable Partners is one of the largest pure-play renewable power investors globally, with an extensive track record in hydroelectric power generation. BEP's assets, located in North and South America and Europe, leverage the company's expertise as owners and operators, as the focus is on generating attractive total returns over the long term.
BEP's business has a number of advantages supporting cash flow growth and capital appreciation, and benefits from technological and geographical diversification. In addition, BPY sells the majority of power under long-term, inflation-linked contracts that allow the company to capture increases in power prices over time. BEP yields 6.52%.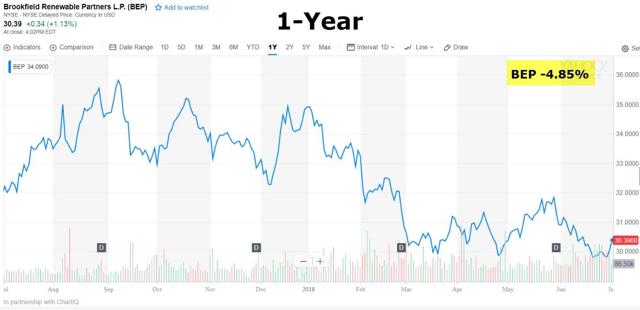 Brookfield Business Partners is a leading private equity business focused on owning and operating high-quality businesses that benefit from barriers to entry and/or low production costs. BBU's objective is long-term growth, which BBU seeks both through acquisitions and organic means.
The company enhances the value of its assets with an operations-oriented approach that focuses on improving profitability, safety, product margins and cash flows. BBU's businesses operate within a number of industries with operations primarily located in North America, Europe, the Middle East, Australia and Brazil. BBY yields .66%.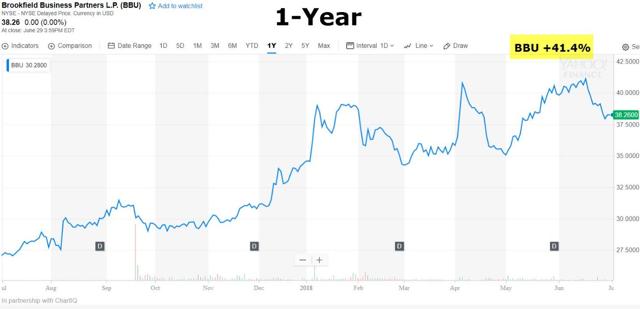 As noted, all four of the BAM-managed entities are Bermuda-based, and while I'm no tax attorney, I suspect that the company has elected to locate its operations in the most tax efficient country. Also, keep in mind that all four of the entities referenced are L.P.'s so they generate K1's instead of 1099's.
However, BAM is taxed as a C-Corp., and this leading alternative asset manager has a massive portfolio under management that spans over 30 countries globally. These businesses are each important components of the backbone of the global economy, supporting the endeavors of individuals, corporations and governments worldwide.
By sourcing capital from investors and shareholders – alongside its own capital – BAM is able to undertake transactions that few others can pursue. In addition, BAM's extensive operating expertise, development capabilities and effective financing experience enables the company to increase the cash flow of the assets within its operating businesses and create incremental value. BAM yields 1.46%.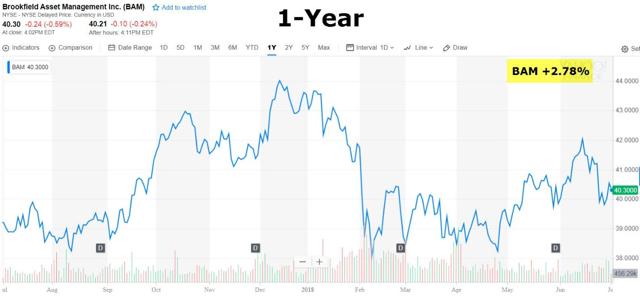 So now you have it, I have provided you with the "dummied down" version of BAM and the four uniquely-positioned publicly-traded L.P/ entities. Now I want to focus on BPY and the proposed new REIT vehicle that will soon be included in my Intelligent REIT Lab.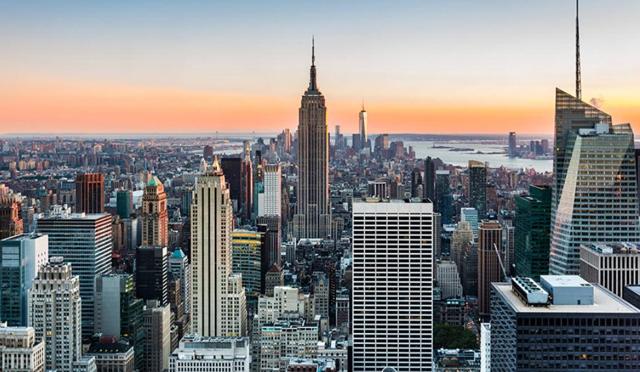 A New REIT To Cover