A Textbook Example Of 'Why Moats Matter'
Summary
Digital Realty has been one of the best REIT investments in my career.
In 2016, Digital has made solid progress towards its goal of achieving operating efficiencies to accelerate growth in cash flow and value per share.
In a very real sense, dividends are a mark of corporate maturity, expressing through a check in the mail that the company's earnings power is durable and its financial condition is strong.
Yesterday, I initiated coverage on CBRE Group (NYSE:CBG), the world's leading commercial real estate services and investment company serving investors and occupiers in more than 100 countries around the world.
As I referenced in the comment section, one of the reasons that I decided to cover this company and a few other real estate operating companies, is because I already get a tremendous amount of research from them.
As you know, I cover a lot of real estate (100+ Equity REITs) and it's virtually impossible for me to research every property sector and sub-sector, so I have to rely on analyst reports and relevant market data.
One property sector that I have become attracted to over the years is the Data Center sector. However, without help from the experts, I was not comfortable forecasting growth and determining performance levels within the cloud-servicing sector.
Recently, CBRE published a Data Center report, and the company said:
Driven by the rapid enterprise adoption of mobile devices and networks, the Internet of Things, cloud services and content delivery, net occupancy gains across the major U.S. data center markets continued at robust levels in 2016, nearly matching the record-highs in 2015.

Leasing volume was dominated by a flurry of hyperscale cloud-service provider (CSP) requirements that sometimes reached in excess of 15 megawatts (MW) each. 2016 net absorption totaled 195 MW across the major data center markets (Atlanta, Chicago, Dallas/Ft. Worth, New York/New Jersey, Northern Virginia, Phoenix and Silicon Valley), slightly below the 200+ MW of absorption in 2015.

…more speculative data center capacity is scheduled for delivery in 2017 than in the past several years. This increase in capacity should facilitate and increase leasing volume in a number of markets that have been severely supply-constrained or underserved for the past several quarters.
Next week, I plan to publish my monthly newsletter, the Forbes Real Estate Investor, and I have included a scoring system for all SWANs (sleep well at night REITs). There are 23 SWANs (these are the blue chip REITs), and I have put together a model ranking the companies based on a variety of durability metrics such as earnings growth, dividend growth, payout ratios, and investment grade rating.
There is only one data center REIT on the list, and that is the same company that I am writing on today.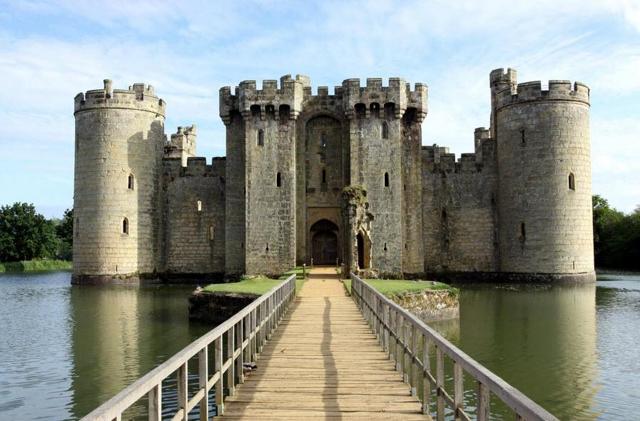 Why Moats Matter
In the book, Why Moats Matter, by Heather Brilliant and Elizabeth Collins, the co-authors explain:
We're looking for companies that have economic moats – structural advantages that protect them from competitors, just as physical moats protect castles from enemies.
Warren Buffett (Fortune 1999) also described the economic moat concept when he said:
The key to investing is …determining the competitive advantage of any given company and, above all, the durability of that advantage. The products or services that have wide, sustainable moats around them ate the ones that deliver rewards to investors.
I first started covering Digital Realty (NYSE:DLR) back in February 2013, and in May 2013, the company's moat was tested. As you may recall, Highfields Capital Management was shorting the Data Center REIT arguing that shares were worth $20.00. Jonathon Jacobson of Highfields stated (at the 18th Ira Sohn Investment Conference) that:
Pricing is going lower, competition is increasing, and the company is tapping into capital markets as aggressively as they can.
It's true, profits attract competitors, and competition makes it difficult for companies to generate strong growth and margins over the long term. However, I knew that Digital could withstand the noise from Highfields, and become an even bigger fortress, surrounded by an even wider moat.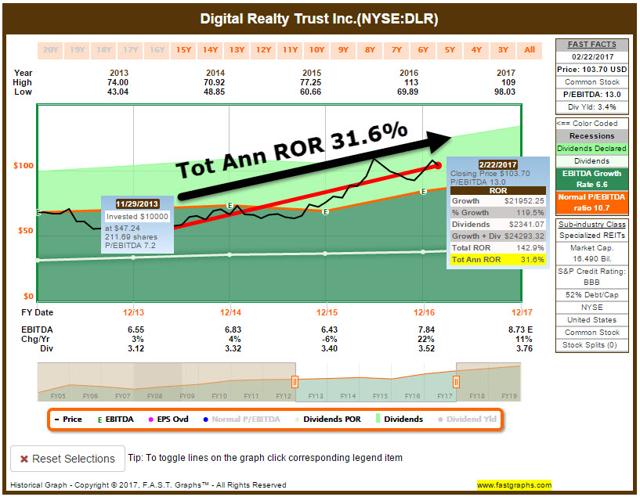 Clearly Digital was able to not only fend off the short seller, but also earn high returns on capital – increasing earnings, returning cash to shareholders, and compounding intrinsic value. In fact, Digital has been one of the best REIT investments in my career, and in fact, I consider the 2013 trade to be a "text book" example of investing with a margin of safety.
Wait, it's now been almost four years, and I just can't assume that Digital's moat is still wide. I need to inspect the business model to make sure that the fortress (balance sheet) is still sound and that the company is generating steady and reliable profit margins.
Let's take a closer look…
Inside the Fortress
Use of cloud services has become mainstream, and demand is growing at double-digit rates. As businesses expand their use of cloud services, providers' scale is becoming more important. Data center REITs benefit from their presence in multiple markets. Efforts to obtain scale are also fueling industry consolidation and merger and acquisition activity.
Significant spending by public-cloud providers like Apple (NASDAQ: AAPL), Amazon (NASDAQ: AMZN), Facebook (NASDAQ: FB), Google (NASDAQ: GOOG) (NASDAQ: GOOGL), and Microsoft (NASDAQ: MSFT) are helping fuel the sector's progress. Banking, financial services, and insurance firms are other sources of significant demand.
As of Q4-16, DLR owns 145 properties, including 14 properties held as investments in unconsolidated joint ventures, contain applications and operations critical to the day-to-day operations of technology industry and corporate enterprise data center customers.
The portfolio is comprised of approximately 23.0 million square feet, excluding approximately 2.0 million square feet of space under active development and 1.1 million square feet of space held for future development, located throughout North America, Europe, Asia and Australia.
Here is a snapshot of DLR's top 20 tenants: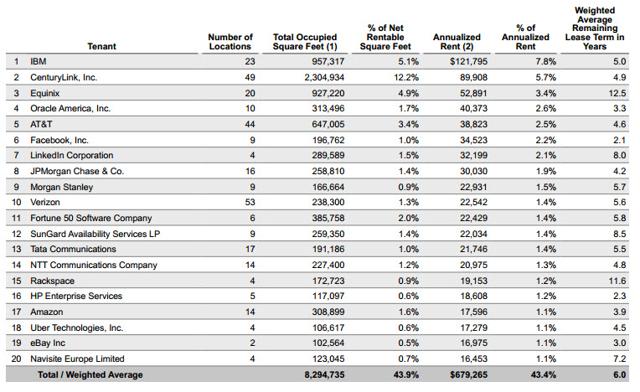 Digital has advanced its goal of diversifying product offerings, with the launch of the Service Exchange in November, the continued growth of the Partners and Alliances Program and the expansion of the colocation footprint beyond the original 20 Telx locations.
Service Exchange is an interconnection platform that facilitates direct, private and secured connections to multiple cloud service providers including Amazon Web Services, Google Cloud Platform, and Microsoft Azure, as well as telecommunications providers and other Digital Realty customers worldwide.
Service Exchange provides more value to Digital's customers by simplifying interconnection and making access between interconnected services, providers and businesses more flexible, more scalable and easier to use than ever before. DLR went live in 43 facilities across eight markets in November and is on track to rollout another 17 sites across another nine markets in 2017.

This offering will allow Digital's customers to realize the benefit of the public cloud without the complexity or security issues associated with hybrid cloud architectures.
In addition to the launch of Service Exchange, Digital saw an acceleration of activity in the Partners and Alliances Program during the fourth quarter with a pickup in bookings on the company's Direct Link Colocation offering with IBM Bluemix (NYSE:IBM) as well as a significant back-to-back transaction with a leading IT services provider supporting a publicly-traded healthcare service provider.
These programs highlight Digital's unique competitive differentiation with the ability to offer customers a full spectrum of data center solutions from a single cabinet all the way up to multi-megawatt deployments.
As noted above, the long-term data storage trend is clearly marching up and to the right. Current market vacancy rates are in this mid-single digits in most core markets and demand continues to outpace supply. On the recent earnings call, Jonathan Atkin, Analyst with RBC Capital Markets asked:
My first question is on M&A and if you could comment on the remaining milestones as you integrate the new European assets and as well the kind of the many potential that you see in enhancing interconnection revenues there? And then if you could also maybe talk about your views on further inorganic growth in Europe or elsewhere?"
Scott Peterson, Chief Investment Officer, at Digital remarked:
On further inorganic M&A, as we always say, we look at everything. We're looking for opportunities that are strategic and complementary, that we can prudently finance and represent a good investment value for our shareholders. And by that we mean accretive.

I think as a general statement that I can say that we are not looking to acquire assets just to get bigger. And many of the opportunities that were out there presented – really had neither a strategic value nor represented good value until it's easy for us to be interested observers on those.

But I think we're going to remain disciplined in our approach to this. And we're not going to jump on any opportunities that will really only serve to make us bigger and not better.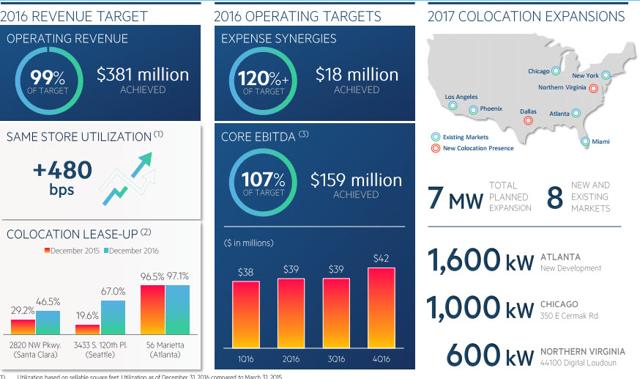 The Fortress Balance Sheet
One of the primary ways that Digital is differentiated from its competitors is by its balance sheet. Digital is rated BBB by S&P (and comparable ratings from the other agencies). On recent earnings call, Digital's CEO, William "Bill" Stein remarked:
We raised guidance three times over the course of the year delivering core FFO per share growth above the high end of our original guidance range, and we delivered outsized growth in AFFO per share. Finally, we achieved this growth while strengthening our balance sheet. We paid down virtually all of our remaining secured debt. We reduced our floating rate debt exposure by more than half, and we lowered leverage by nearly half a turn.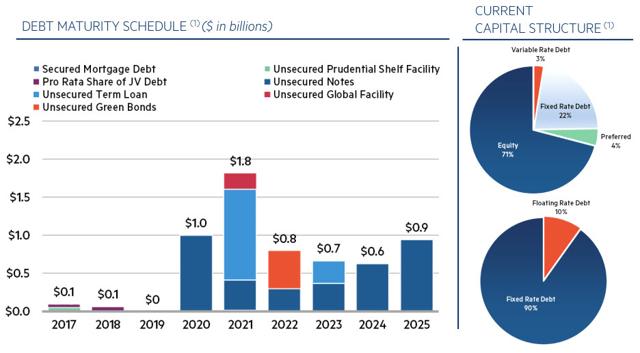 During the fourth quarter, Digital prepaid $108 million of mortgage debt at a weighted average coupon of a little over 6%. The company now has just $3 million of secured debt remaining or well under 1% of total debt outstanding.
Subsequent to year-end, Digital retired the final $50 million tranche of the 5.73% Prudential Unsecured Senior Notes at maturity in January. The 6.625% Series F of Preferred Stock is callable in April and the company expects to fund the $182.5 million redemption by settling the remaining 2.4 million shares, subject to the forward sale agreements entered into last May.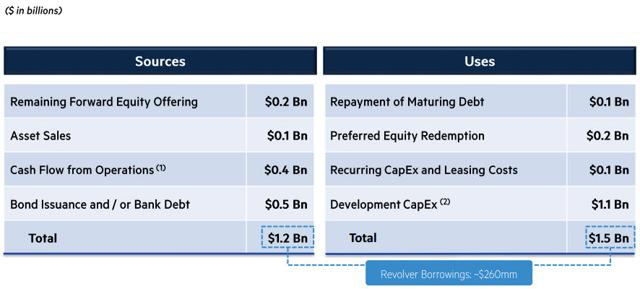 Aside from the remainder of the forward equity offering, Digital's plan does not contemplate any additional common equity issuance in 2017. Even so, Digital expects net debt to adjusted EBITDA will remain below 5x throughout the entire year.
Digital also expects to capitalize on the current strength of the data center investment sales market by continuing to prune the portfolio and selling up to another $200 million of assets this year.
In addition, we expect to generate approximately $400 million of cash flow from operations after dividends. Finally, we expect to raise another $500 million of long-term fixed rate financing later this year.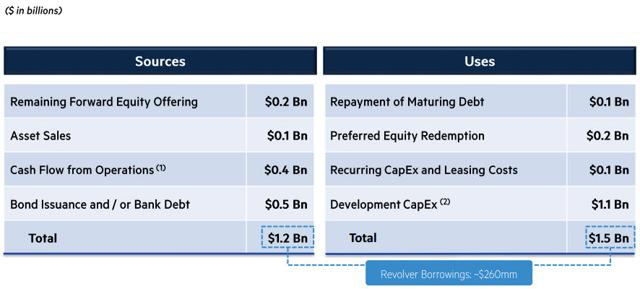 Digital has reduced leverage from 5.2x at the end of 2015 to 4.8x at the end of 2016. The balance sheet is primed for growth consistent with the company's long-term financing strategy.
One possible catalyst: An upgrade from BBB to BBB+ would probably improve Digital's borrowing costs on the order of 10-15 bps. However, since 70% of the capital stock is common equity, it would realistically represent just a marginal improvement in terms of the overall weighted-average cost of capital. However, I would like to see the company obtain this rating as indication of financial strength and durability is a must.
Predictable Profits
In 2016, Digital has made solid progress towards its goal of achieving operating efficiencies to accelerate growth in cash flow and value per share. The company hit its target for 200 basis points of EBITDA margin expansion two years ahead of plan.
In Q4-16, Digital also beat the high-end of its original guidance range, delivering 9% growth in core FFO per share and 22% growth in AFFO per share. On a constant currency basis, FFO per share growth would be in double-digits and AFFO per share growth would be north of 23%. Just, as importantly, Digital was able to achieve this growth without levering up.
For 2017, Digital's same capital cash NOI growth is expected to be similar to full-year 2016, both as reported and on a constant currency basis. Digital reported core FFO per share of $5.72 for the full year, an increase of nearly 9% on a reported basis, and up a little over 10% on a constant currency basis.
Growth in AFFO per share was better than 20% for the full year, driven by greater cash flow contribution from the core business, accretion from the Telx acquisition, continued burn-off of straight line rent and lower than expected recurring CapEx spend. The current AFFO payout ratio is sub-70%, and clearly provides room for further dividend growth.
In 2017, Digital expects AFFO per share growth to closely match FFO per share growth.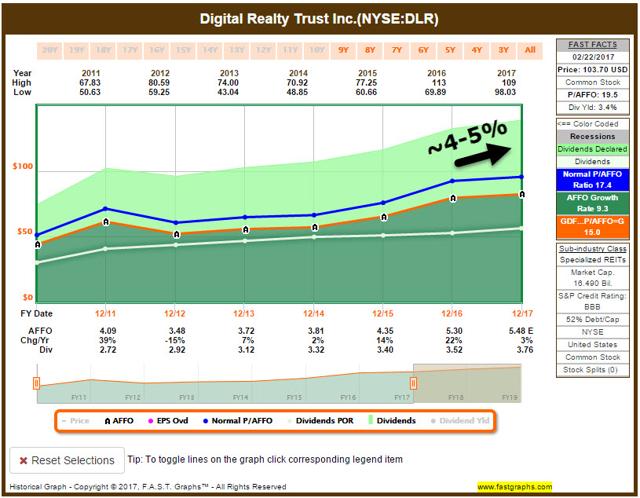 Analysts' consensus suggests that Digital could grow by 8% in 2018 and 5.5% in 2019. Keep in mind, the 2017 guidance does not include acquisitions, and Digital has a history of providing modest guidance numbers.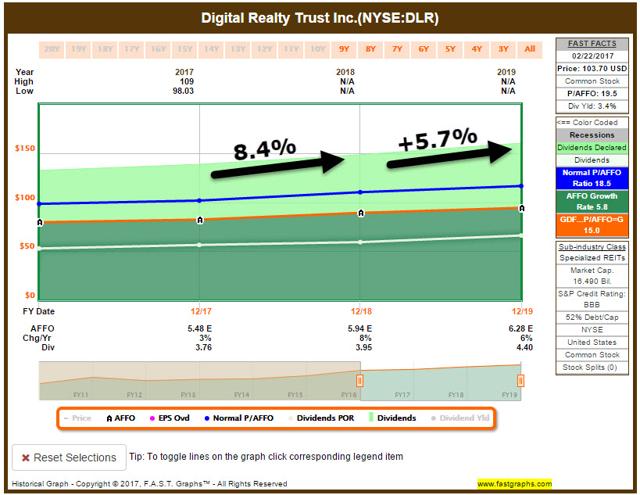 Of course, the dividend history is a big part of Digital's SWAN recipe: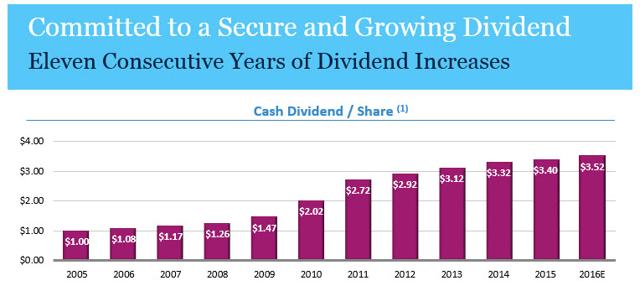 Valuation Is An Important Part Of The Investing Process
As Heather Brilliant and Elizabeth Collins write in "Why Moats Matter":
We believe that sustainability us much more important than the magnitude of economic profits when assessing economic moats. In other words, a highly certain 20-year stream if modest economic profits is much more moat worthy than a few years of extraordinary high returns on invested capital.

But we also know that investors must pay close attention to the price being paid, and the margin of safety is the essence of value investing because it is the metric by which hazardous speculations are separated from genuine investment opportunities.
In other words, it was not just sheer luck that shares in Digital have generated returns of over 30% since 2013. The truth is, I focused on fundamentals, recognizing that the valuation of this "sleep well at night" REIT would return to normalized levels.
Here's how DLR's P/FFO multiple compares to the peer group: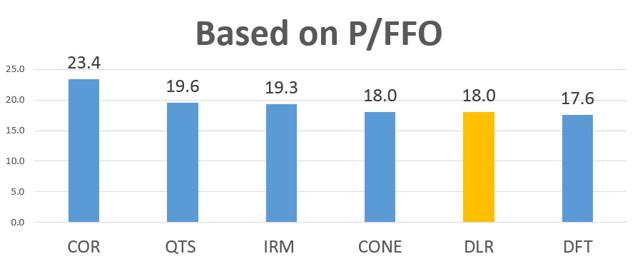 Here's how the dividend yield compares:
As referenced above, I have 23 SWANs in the REIT Lab, but we don't own them all. In my upcoming newsletter, I am providing a scoring system, in order to assist subscribers with filtering out the most durable REITs with an emphasis on a buffer to protect against market fluctuations. That buffer is the margin of safety – the difference between the real or intrinsic value of the business underlying the stock and the current price.
As Benjamin Graham defined it, the margin of safety constitutes a "favorable difference between price on the one hand and indicated or appraised value on the other."
In regards to Digital, we are recommending a HOLD. We believe shares are a tad rich right now and we believe patience is the best strategy. Of course, we will continue to own shares and will always look to acquire more shares if and when there is a pullback.
Co-authors, Heather Brilliant and Elizabeth Collins, remind us:
Dividend payments provide investors with valuable signals regarding management's willingness to reward shareholders rather than just themselves. In a very real sense, dividends are a mark of corporate maturity, expressing through a check in the mail that the company's earnings power is durable and its financial condition is strong.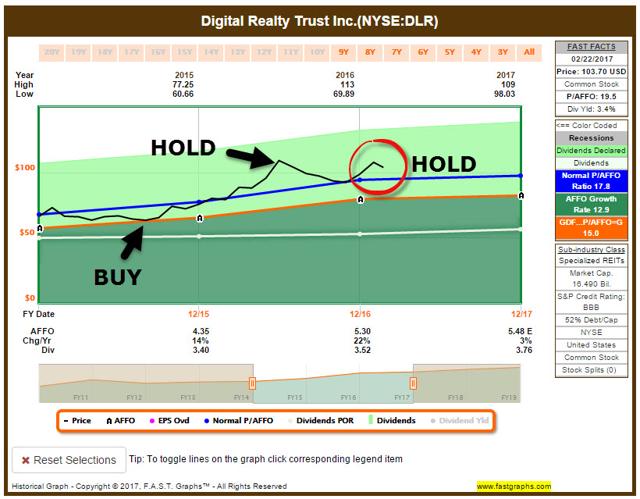 Check out The REIT Beat if you'd like to get more of my ideas, including early access to my highest-conviction REIT plays, access to Q&As with management teams, weekend REIT reports, and more. We'd love to have you on board, so have a look.
Author Note: Brad Thomas is a Wall Street writer, and that means he is not always right with his predictions or recommendations. That also applies to his grammar. Please excuse any typos, and be assured that he will do his best to correct any errors, if they are overlooked.
Finally, this article is free, and the sole purpose for writing it is to assist with research, while also providing a forum for second-level thinking. If you have not followed him, please take five seconds and click his name above (top of the page).
Disclosure:I am/we are long APT, ARI, BXMT, CONE, CORR, CCP, CCI, CHCT, CLDT, CUBE, DLR, DOC, EXR, FPI, GPT, HTA, HASI, KIM, LADR, LTC, LXP, O, OHI, QTS, ROIC, STWD, SNR, STAG, SKT, SPG, STOR, TCO, UBA, VTR, WPC, PEI, EQR, DEA, MVEN.
I wrote this article myself, and it expresses my own opinions. I am not receiving compensation for it (other than from Seeking Alpha). I have no business relationship with any company whose stock is mentioned in this article.